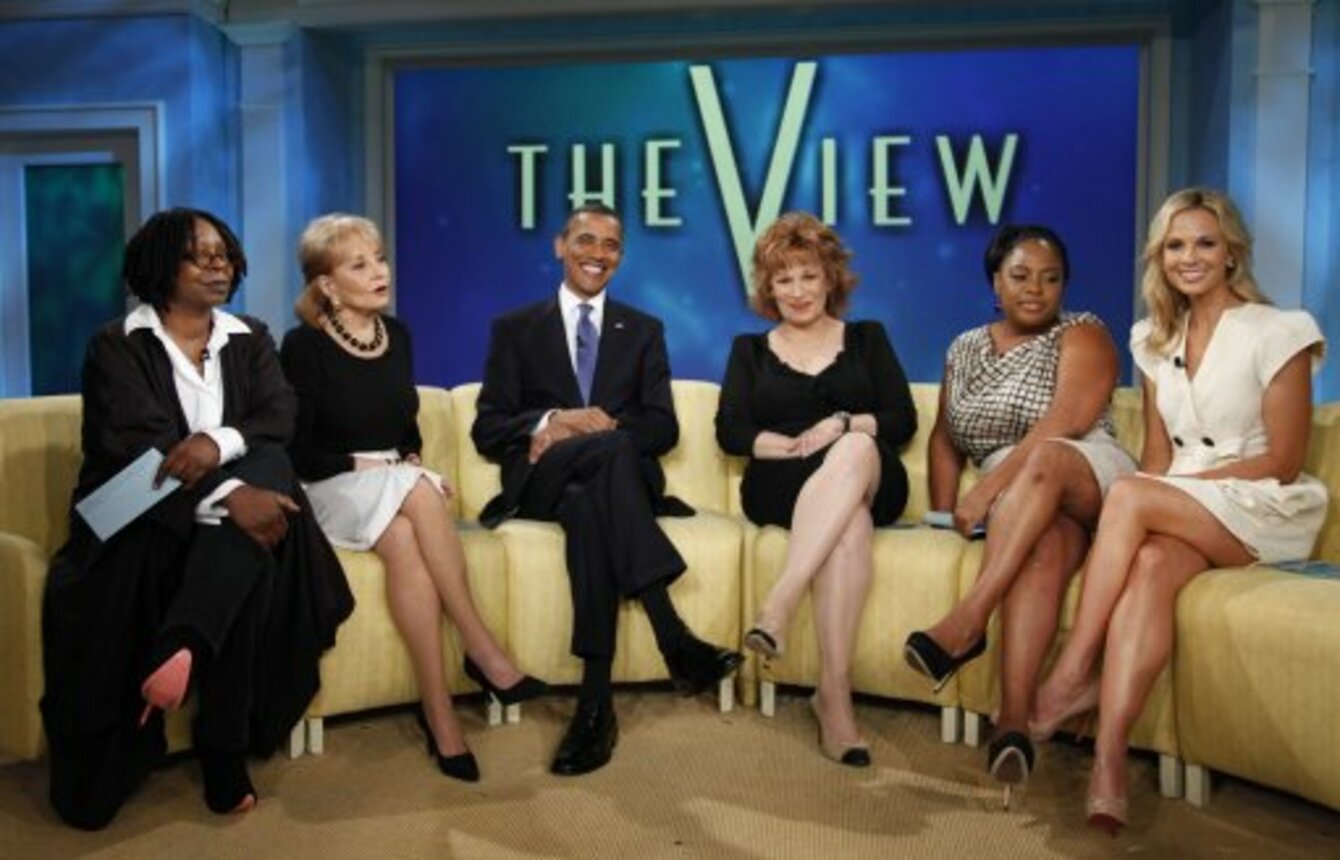 President Barack Obama appears on "The View" in New York
President Barack Obama appears on "The View" in New York
BARACK OBAMA became the first US president to make a studio appearance on a television chat show today.
He joined Barbara Walters, Whoopi Goldberg Joy Behar, Sherri Shepherd and Elisabeth Hasselbeck on the popular show, The View.
The president chatted about his family life, as well as touching on more sober topics like the Gulf of Mexico oil spill and the economy.
Obama was asked by 80-year-old journalist Barbara Walters: "In the last month, what has been the rose and what has been the thorn?"
He said, "Well in the last month the rose has to be a couple of days we took in Maine with Michelle, Sasha and Malia, and we went on bike rides and hikes."
He continued; "You know, the girls are getting old enough now where they're not quite teenagers yet – so they still like you – but they're full of opinions and ideas and observations, and it's just a great age."
When asked what the "thorn" had been he replied: "The country has gone through a tough stretch since I took office." He outlined that there had been a great deal to tackle since he came to power. He spoke of trying to stabilise job-loss, save the economy, deal with the oil spill, engage in two wars and attempt to control the H1N1 pandemic.
However, he said, it was the strength of the American people that inspired him: "As tough as it's been they remain hopeful, they remain optimistic. So I don't spend a lot of time worrying about me," he said, "I spend a lot of time worrying about them."
This will be Obama's third time appearing on The View; he appeared to promote a book about his father in 2004 and once again as a presidential candidate in 2008.  However this is the first time that a sitting president has appeared on the show.
Obama said that he wanted to appear on The View because he wanted to be on a show that his wife liked: "I was trying to find a show that Michelle actually watched, and so I thought this is it, right here."
Watch a clips here.
Meanwhile, CBS journalist Katie Couric had a sharp rebuke for Obama's appearance on the daytime show.