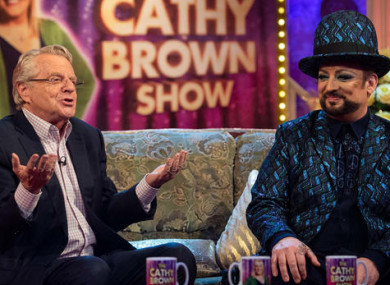 DailyEdge.ie rounds up the TV shows that you'll be tweeting about tonight and talking about tomorrow.
All Round To Mrs. Brown's (RTÉ One, 9.30pm)
Mrs Brown's Boys creator, writer and star Brendan O'Carroll dons Agnes's famous cardigan and curlers once again, throwing open the doors of the larger-than-life Irish matriarch's home to host the Saturday night chat show, filmed in front of a live studio audience. Joining in the fun this time around are guests Jerry Springer, Ray Mears and Boy George, who has brought along his mother, Dinah O'Dowd. Ray gives Dermot and Buster a crash course in survival skills, while Years & Years perform at Foley's. Last in the series.
David Walliams Celebrates Dame Shirley Bassey (RTÉ One, 10.40pm)
A treat for fans of the veteran singer as comedy actor David Walliams hosts this special night of entertainment paying tribute ahead of her 80th birthday in January. Shirley performs some of her best-loved songs, backed by a live studio orchestra and duetting with award-winning vocal group Blake. She also talks to David about her 60-year career, and even appears alongside the funnyman in a couple of sketches. Also appearing are Simon Callow, Jocelyn Jee Esien and Beattie Edmondson.
Super Squirrels (BBC Two, 8.00pm)
The extraordinary abilities of the squirrel family are examined, putting their problem-solving to the test on a specially designed assault course. Some of the world's leading squirrel scientists reveal their groundbreaking discoveries – from the fox squirrel who can remember the location of 9,000 nuts, to the grey squirrel whose tree-top leaps are the basis of new designs in robotics.
Everyone's talking about: GLOW's Kate Nash
The singer and Netflix star has defended WWE from "fake" criticisms.
Speaking to Angela Scanlon on BBC Radio 2, Nash reflected on the research her wrestling fan friends gave her before landing the role to make sure she took the gig seriously.
"That's because some people suggest that wrestling isn't a real sport – or WWE at least," Angela offered.
Because it's entertainment, rather than wrestling, because there is an element of choreographing and planning of these. Because it is kind of the perfect marriage of hardcore violence and spectacle."
Or flick over for…
A Killing In A Small Town (TG4, 9.25pm) A Sunday school teacher has an affair with a married man, leading to a fatal confrontation.
Love Island: The Weekly Hot List (3e, 9.00pm) Companion show providing viewers with a recap of the past week on the island.
Dumb And Dumber To (Channel 4, 11.00pm) Dim-witted friends Harry and Lloyd are reunited after 20 years.
Lucy (FilmFour 9.00pm) A courier seeks revenge on the gangsters who kidnapped her after a drug grants her superhuman powers. Starring Scarlett Johansson.
DailyEdge is on Instagram!