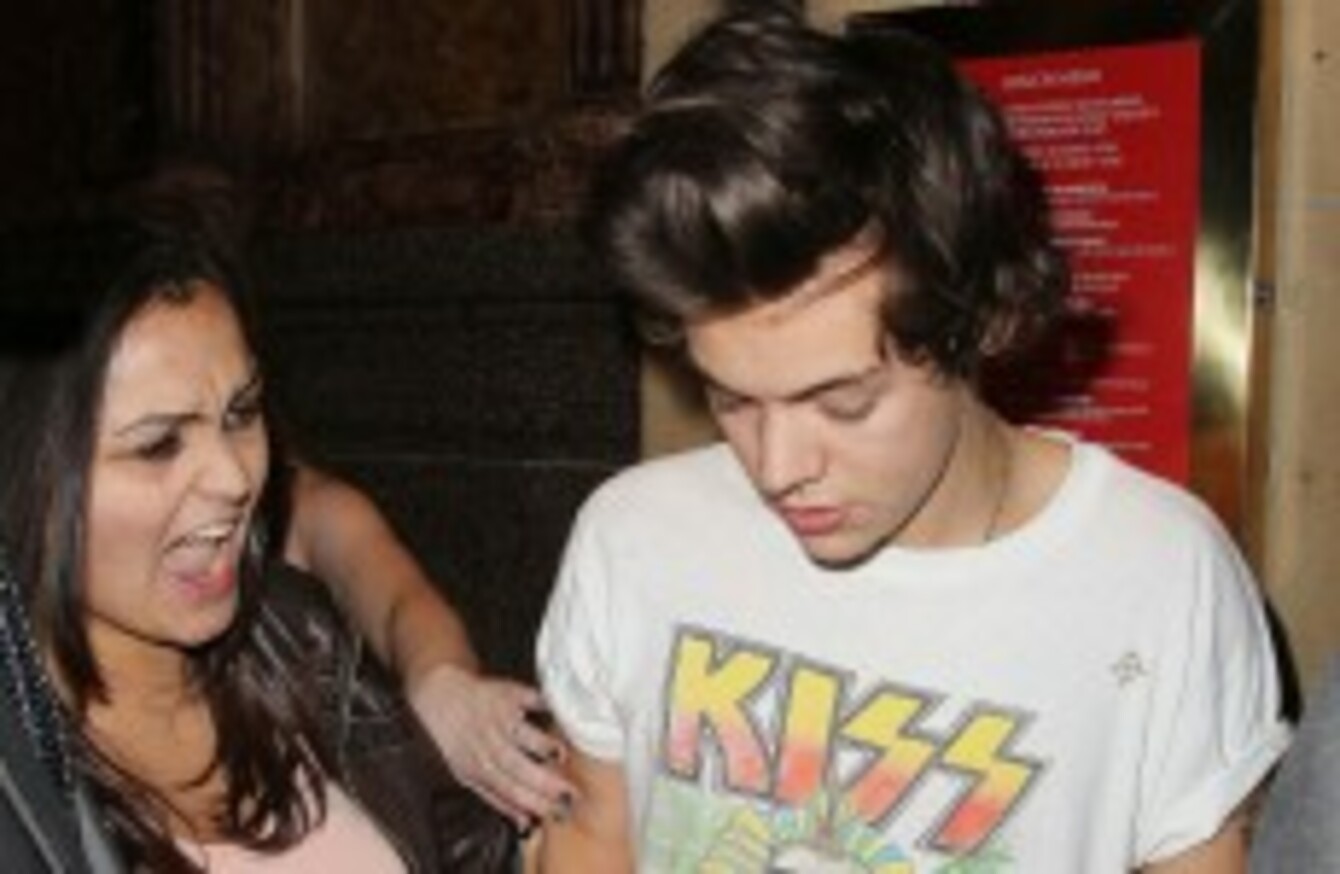 Harry, going home to his lonely bed.
Image: Eamonn and James Clarke/EMPICS Entertainment
Harry, going home to his lonely bed.
Image: Eamonn and James Clarke/EMPICS Entertainment
EVERY WEEKDAY MORNING, DailyEdge.ie rounds up the best of the day's celebrity dirt – from the top to the very bottom.
#STYLIN': One Direction are interviewed in this month's issue of GQ, which has sent their fans off the deep end in a major way. So what scandal did we learn?
Well, Harry Styles – conqueror of women, destroyer of ladies' hearts – has had sex with a total of two people.
We learned this in this toe-curlingly embarrassing exchange, which actually made us feel a bit sorry for the lad:
So either he's a perfectly normal, pleasant and respectable 19-year-old, or he's lying. We know which one we'd rather believe.
Other revelations? Well, not really. Except that Niall Horan has a major crush on Ellie Goulding. "Ellie Goulding – wow," he said. "She is absolutely amazing looking." (GQ)
#CUMBERBITCHES: Have you wondered why Benedict Cumberbatch – a man who is less conventionally attractive than say, Peter Andre – has become a sex god for our times, beloved by thousands of women?
Wonder no more, because the Radio Times brought in body language experts to tell you. (Spoiler: it's because you're a snob.)
They said:
Cumberbatch was a taste you had to acquire. I think acquiring him as a taste makes you feel just a little bit superior. It's like drinking a fine wine or eating a piece of Stilton. It might not be great at first but after a while you feel immensely smart and superior that you do actually prefer him.

His gestures and facial expressions are both purposeful and powerful. That combined with his strong and intriguing (almost asexual features) and deep, purring, authoritative voice make him a sex god.
(Radio Times via ONTD)
So there you go.
Like eating a piece of Stilton. (Itsuo Inouye/AP/Press Association Images)
#HUGE JACKMAN: Hugh Jackman is really, really strong. And also terrifying.
He tweeted this photo of him lifting giant weights, with the caption: "If the bar ain't bendin, then you're just pretendin".
ARGH.
#MORTO: Bruce Willis really hates doing interviews. Fresh from destroying this hapless radio interviewer, he turned up on Daybreak yesterday with a scowl on his face.
Wearing a dressing gown.
Over a shirt and trousers.

YouTube/808stevea
Ouch.
And the rest of the day's dirt…