A DUBLIN PUB has tracked down three customers who dodged a €300 bill after posting a pixelated CCTV screenshot of them on Facebook – and threatening to name and shame if they didn't cough up.
The staff of Oscars Café Bar in Smithfield issued an ultimatum to the three unnamed men on their Facebook page on Saturday: Pay your dues, or we'll post the unpixelated screenshots.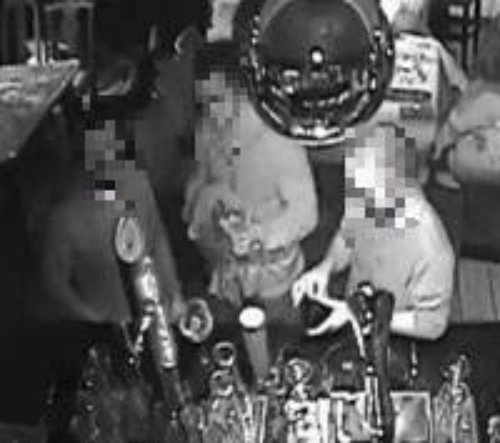 Facebook Facebook
"To the three gin and tonic drinking, well-spoken, "respectable" punters who were in last night," the post read.
You have 72 hours to compensate us €300 for the damage you did to our restrooms and running out without paying your bill last night. We have CCTV cameras everywhere and will have no hesitation in publishing our unpixelated footage during the week if we do not receive payment.
Bar manager Ronan told DailyEdge.ie that staff had no reason to suspect the men were trouble, saying they were "in no way out of order" and chatted to security and staff about their evening.
Then, it all started to kick off.
A member of staff was in the office and she heard an almighty racket from the toilets. She went in and saw one of the men kicking down urinals and knocking toilet roll holders off the walls. When he was caught, he grabbed his coat and just ran out the door. Three staff tried to stop him leaving.
His friends refused to shell out for the man's unpaid drinks tab, and they too left the pub before staff could intervene.
Oscars Oscars
The Gardaí were called and the CCTV footage was handed over, but staff decided to go one step further by posting the pixelated screengrab on Facebook.
After it was shared widely on the site, Ronan received a call from one of the men involved, promising to pay back the money owed.
Today, the pub received their money and an apology note: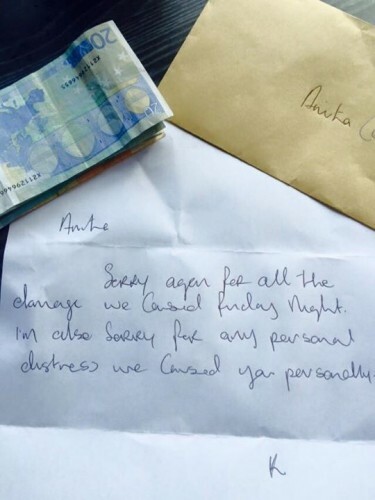 Facebook Facebook
"[This] doesn't excuse the actions of these individuals, but it's a small victory nonetheless," said manager Ronan.