EVERY IRISH PERSON knows those novelty drinking t-shirts that get sold coming up to St. Patrick's Day.
Well, one New York man has a plan to cut Walmart's supply as he finds them offensive to Irish culture, as he outlined to CBS.
Meet Kevin Westley, who is offended by the constant references to alcohol on the St. Patrick's Day clothes in America
CBS CBS
He plans to buy up all of his local Walmart's Paddy's Day stock and then return it on March 18th, and is urging others to do the same
CBS CBS
He has already purchased hundreds of dollars worth of the gear as part of his plan to get a full refund post-Paddy's Day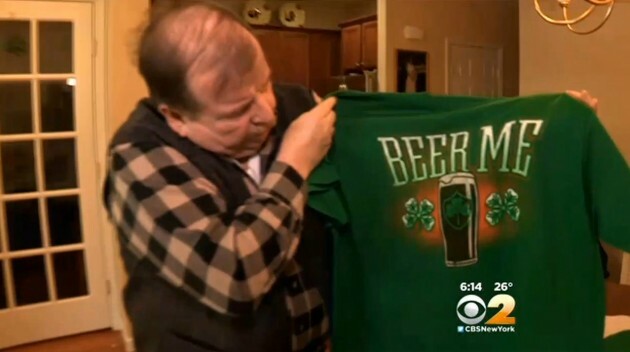 CBS CBS
Speaking to a local CBS affiliate in New York, Westley maintained that he is offended by the clothing because it "implies St. Patrick's Day is all about drinking and the Irish culture is all about drinking."
CBS CBS
Kevin also told the news station that not all his friends agree with his actions, with some of the reactions being harsh enough:
Unfortunately, about a third of it was 'You need to get a life. You really need to get a sense of humor.'
Fighting a crusade to keep the likes of these off US shelves is not the worst plan we have ever heard, in fairness.
TribShops TribShops