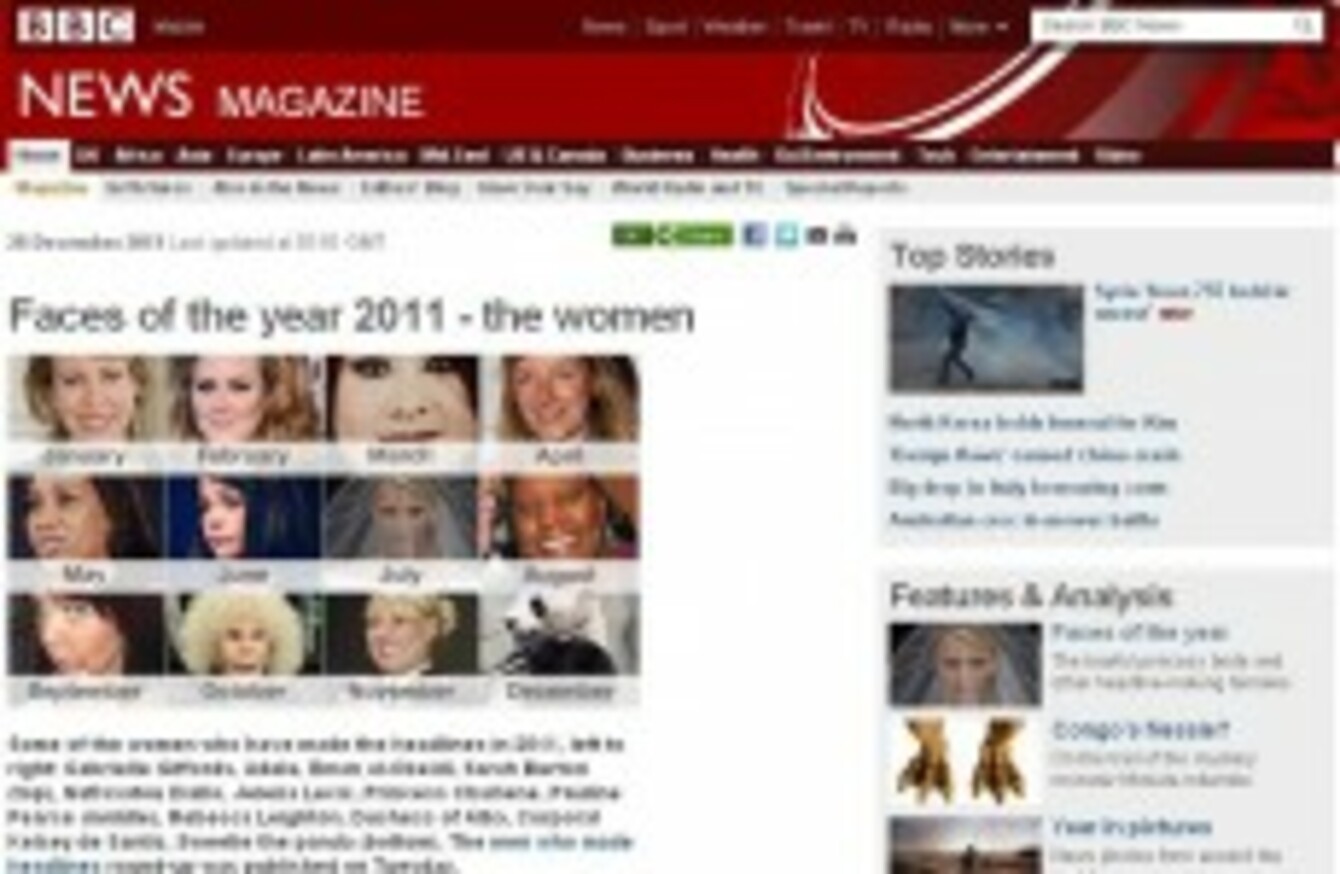 The BBC Magazine's list includes 11 women and, er, one panda
Image: Screengrab via BBC News website
The BBC Magazine's list includes 11 women and, er, one panda
Image: Screengrab via BBC News website
THE BBC HAS caused controversy and outrage on Twitter after it chose a panda as one of its 12 women faces of 2011.
The BBC's magazine section chose Tian Tian or Sweetie, the panda who recently arrived at Edinburgh zoo to much fanfare, as one of its 'Faces of the year 2011′ which was published on the website this morning with men and women categories.
While the men category featured 12 actual men, the women's page featured 11 women and one panda, albeit a female panda who joined the likes of singer Adele and Arizona Congresswomen Gabrielle Giffords, who survived a gunshot wound to the head at the beginning of the year.
Many Twitter users reacted angrily to the selection, quickly assembling under the #pandagate hashtag to tweet their thoughts on the issue:
Pandagate 1

Pandagate 2

Pandagate 3

Pandagate 4

Pandagate 5

Pandagate 6

Pandagate 7

Pandagate 8

Pandagate 9

Pandagate 10
The journalist who wrote the article, Bob Chaundy, said on Twitter: "I didn't choose the BBC women faces of the year subjects, just wrote them. Two black eyes from wife though. Pandamonium!"
It follows the controversy surrounding the BBC Sports Personality of the Year's all-male shortlist recently. Though the list was chosen by sports editors from various publications, the BBC took much of the public anger at the decision.
British Labour MP Stella Creasy said the BBC could have done a lot better.
Quoted on Guardian.co.uk, she said: "Whilst we all love a good panda story, in a year when Christine Lagarde became head of the IMF, or Helle Thorning-Schmidt became prime minister of Denmark or even the sad death of Amy Winehouse, its frustrating the BBC couldn't think of 12 human female faces who have made the news this year.
Responding to the criticism, the BBC noted that its not the first time the lists for both men and women have included animals "In 2009, Benson the Carp, a much-caught giant fish, was August's entry on the male list and last year Peppa the Pig was on the female list for April" a statement said.