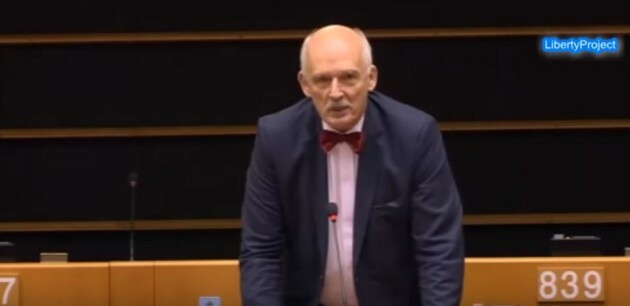 YouTube YouTube
LAST WEEK, A far-right Polish MEP named Janusz Korwin-Mikke caused ructions when he suggested that the gender pay gap was in fact reasonable because women are "less intelligent" than men.
Of course women must earn less than men because they are weaker, they are smaller, they are less intelligent, they must earn less, that's all.
Do you know how many women are in the first 100 of chess players? I can tell you – not one.
euronews (in English) / YouTube
Rules require MEPs to refrain from "defamatory, racist or xenophobic language or behavior" and yesterday it was announced that the 74-year-old would face steep sanctions for his remarks.
The politician was forced to forfeit his daily subsistence allowance for 30 days and suspended from Parliament for 10 days. Furthermore, he will not be permitted to represent Parliament for one year.
You would think that would be that, right? After all, what else is there to be said? Why entertain views that are not only offensive, but objectively wrong?
Enter Pat Kenny.
Hello, I hear you have contrarian views. Would you like to come on my radio show?
This morning, Newstalk's Pat Kenny decided to troll 50% of the population and invite Janusz Korwin-Mikke on air to "hear more about his views on gender equality".
Oh terrific. Just what we needed. What ensued was a trying, exhausting conversation about the differences between men and women.
Initially, Korwin-Mikke denied saying that women deserve less pay than women and said that he was merely stating, "If one is weaker and less intelligent, they must expect that they will earn less."
Among the dubious claims he made…
Women are less intelligent than men. ("I was taught it in school," he cried.)
Europe is occupied by "feminazis". Interesting choice of words from a man who once made a Nazi salute in European Parliament.
However, he acknowledged that women are probably wiser than men and have better memories. ("A 15-year-old boy is usually more intelligent than his mother, but she is much wiser.") Thank you, Janusz. So kind of you to say.
The lack of women in the top 100 chess players is evidence that women are less intelligent than men. A fairly bizarre barometer for judging intelligence and human worth, no?
Over the course of the interview, it became abundantly clear that Korwin-Mikke is little more than a right-wing misogynist contrarian that enjoys trolling people.
At one point, he even acknowledged that the "majority is always stupid" and that he enjoys being out of step with popular opinion.
So what was the purpose or value in having him on? Once Kenny bid farewell to Korwin-Mikke, he read out a series of outraged texts from listeners that referred to the MEP as an "idiot" and a "moron" and it was clear that this had informed the thinking behind the segment.
Over the last year, we have seen media outlets at home and abroad give far too much oxygen to contrarians that hold racist, xenophobic or misogynist viewpoints. It's how you end up with people like Katie Hopkins on The Late Late Show or President Donald Trump in The White House.
The discussions that ensue are rarely substantive, but are rather designed to rile up the audience and generate a reaction. Often it works, but at what cost?
In justifying the segment, Kenny muttered something about "freedom of speech".
Hmm. Wouldn't it be nice if older white men cared as much about the rights of their fellow human beings to not be offended or discriminated against as they did about the rights of their peers to say hateful, divisive things that reinforce harmful stereotypes and archaic power structures?
Korwin-Mikke is entitled to hold his views, but we aren't required to broadcast them on national radio. This is not an instance where we "gotta hear both sides".
Broadcasters: I know it's boring, but why don't we try a new thing where we don't have unapologetic sexists and racists on air? Why don't we try a thing where we don't deliberately try to raise the blood pressure of listeners for short-term gain?
Because having a man on to talk about women being weaker and less intelligent than men? That's not a great long-term strategy.
DailyEdge is on Snapchat! Tap the button below to add!