PENSIONER PATRICIA HEWITSON asked BBC Radio Devon gardening show The Potting Shed to help her to identify a large, luscious plant growing in her garden.
The 65-year-old told the show that there was a 'sickly sweet pong' coming from the plant in her Exmouth garden, which she found growing among the petunias.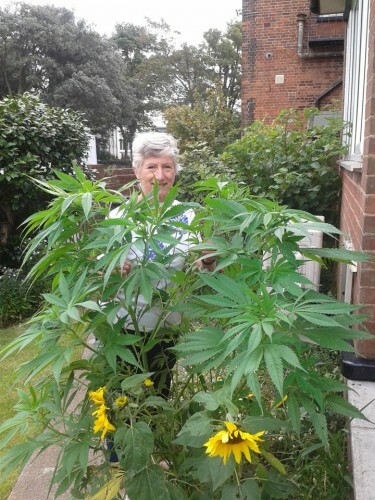 BBCRadioDevon BBCRadioDevon
BBC Radio Devon posted the photo Patricia sent to their Facebook page with a plea:
Hi Pippa and Sarah here from The Potting Shed. Patricia from Exmouth sent us this picture of a mystery plant she found growing under the bird feeder in her garden. Any idea what it is? We'll find out this morning on BBC Radio Devon…
Comments came streaming in from listeners who could identify the plant straight away.
That appears to be the rare Cannabis indica!
Bless her, now we know why she's smiling lol
Some even offered some expert advice on maintenance.
Hi Pippa i suggest you let that plant, flower and then make some cookies with it and quickly before your pic goes viral.
BBC gardening expert Sarah Chesters broke the news to Hewitson on air that her new shrub could get her in a bit of trouble, and probably originated from a seed in her bird feeder.
I knew immediately, not because I'm an expert but because I have come across the plant in a professional capacity, it is a cannabis plant. I'm afraid you are growing an illegal plant so we'll have to do something about that.
Hewitson confirmed she received an email from the police, but won't be punished.
A Devon and Cornwall police spokesperson told the BBC that if someone should come into possession of a marijuana plant, it must promptly be destroyed.
The lady has committed an offence although there are mitigating circumstances so we would not look to take it further although we would take it away.
Hewitson herself confirmed she had cut the plant down under the Facebook post, and that she didn't sample the goods.
It's not the first time a pensioner has been in trouble for unknowingly introducing a high addition to their garden. An elderly couple in Bedford bought a shrub at a car boot sale that sprouted into the 'biggest cannabis plant Bedford officers had seen'.
BedfordLPT BedfordLPT