Updated 11.45am
DUN LAOGHAIRE SHOPPING Centre may have clinched the honour of housing Ireland's first pizza vending machine that makes the cheesy treat right before your eyes.
Let's Pizza vending machines have hit the headlines in the US as news that made-to-order pizzas are heading stateside, with the LA Times reporting that they're headed for "malls, airports, hospitals restaurants, hotels, supermarkets, universities, gas stations and bus stations". Phew.
(Let's not forget that US Congress last year ruled that pizza is a vegetable. Congressman Jared Polis later rejected the idea that pizza could be equated with broccoli or carrots)
The Let's Pizza machine mixes the dough, kneads it, and adds tomato sauce and topping right before your eyes, and then cooks it in an infra-red oven. Touted as a huge success in Italy, the spiritual home of pizza, the company says that this endorsement means it's a quality product.
A video about the process reassures customers that the product is "not touched by human hands". Again, phew.
A Let's Pizza Ireland Facebook page boast that Dun Laoghaire shopping centre (the top floor to be precise) is the first location for the company's machines in Ireland. TheJournal.ie has been in touch with Oran Turley, who represents Let's Pizza here in Ireland and he said that the machine in Dun Laoghaire is currently the only one in the country as part of a relaunch of the product.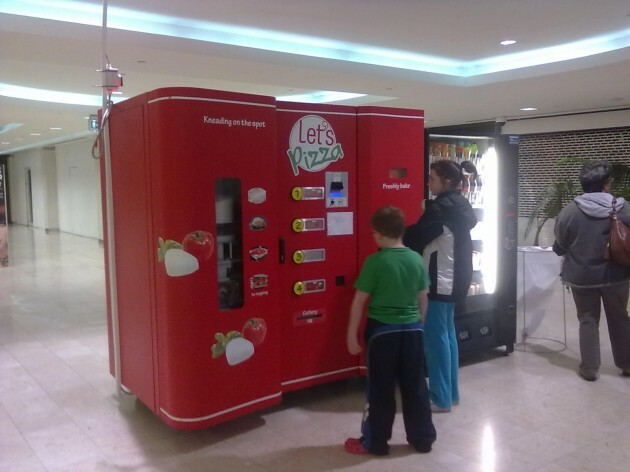 Here's the Dun Laoghaire wonder machine! Image: Ruth Donnelly
Turley said that the products used in the machines are shipped from Italy, and that the demand there has been huge.
The National Aquatic Centre has been in touch via Twitter to say that they believe they were the first in Dublin to have the Let's Pizza machine, but that it is no longer in the centre. There have also been sightings in the O2 in Dublin and in Balleymoney in Wexford. In fact, TheJournal.ie reader Al snapped this picture at the O2 last year: