TWO-YEAR-OLD HAZEL Hammersley is currently in hospital being treated for neuroblastoma.
She got bored waiting, so – with her parents' help – she made a sign in her LA hospital room window. It read "Send pizza Rm 4112″.
Here's the sign: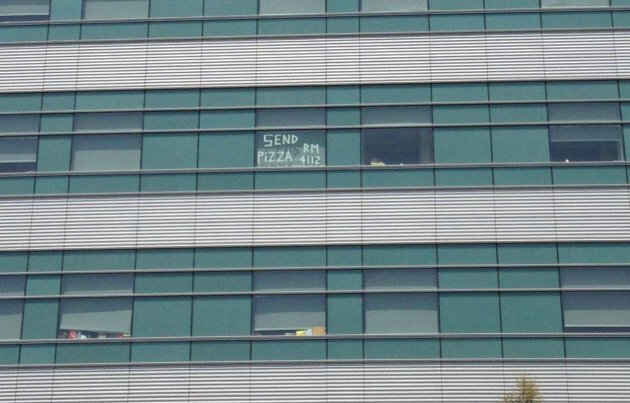 It sat there for several days, until it was noticed by a Reddit user – and made the front page of the huge community site.
Hazel's mum described the moment on her blog:
This sign was up for several days without even a single phone call asking to send up a pizza (which we completely expected!).  Then, on Saturday, it all changed [...] While at home, we began hearing news that several pizza's were being delivered to the hospital.
More than 20 pizzas were delivered that first day, with hospital staff still counting.
So Hazel threw a party, her mum wrote:
Hazel woke up from her nap to the smell of pizza and was so excited to chow down! Several other children and nurses came into the room, with music playing, and had themselves a wonderful Pizza Party [...] We had such a great time!
People sent so many pizzas that the hospital had to put out an official statement, asking for the deliveries to stop:
You've made a little girl very happy but NO MORE PIZZA IS NEEDED.
Here's Hazel with one of her pizzas: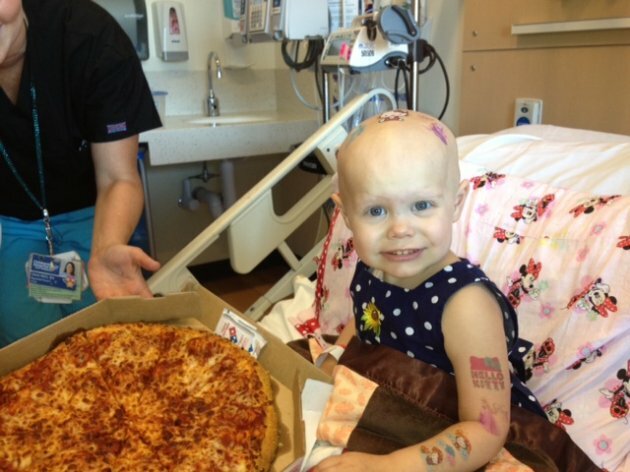 (Pic LA Children's Hospital)
If you'd like to donate to Hazel's treatment fund, you can do so here. The family have also suggested that well-wishers give blood.
Wishing Hazel all the best!
h/t DailyDot