CHRIS AND LEAH O'Kane got married in Oldcastle, Co Meath on Saturday.
No doubt it was a happy day for everyone – but there was a surprise in store during the wedding ceremony.
And it involved a very unusual singing priest.
Fr Ray Kelly belted out a full-length version of Jeff Buckley's Hallelujah*, complete with personalised lyrics:
We join together here today / to help two people on their way

As Leah and Chris start their life together…
It's quite amazing. Wait til he really gets going:
invitationlovejesus / YouTube
He came perilously close to a standing ovation from the congregation: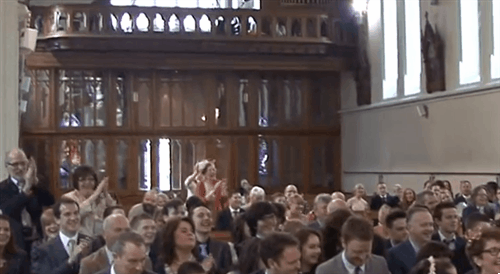 Congratulations, Leah and Chris. All the best for the future!
via Her.ie
*Yes, it was originally written by Leonard Cohen. Yes.