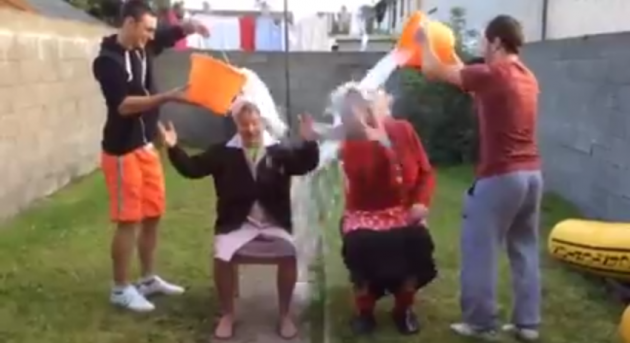 HAS THE ICE bucket challenge lost the run of itself? Perhaps.
As evidence: two west Dublin priests have done the ice bucket challenge and nominated the most senior members of the Catholic Church hierarchy in Ireland.
Fr Sean Duggan and Fr Gerry O'Connor from Cherry Orchard did the challenge last night. Adding an extra layer of madness to the proceedings, they did it dressed as Mrs Doyle and Mrs Brown, saying they nominated:
Charles Browne, Archbishop Charles Brown the papal nuncio, the Pope's representative in Ireland, so that he might be in solidarity with the rest of us in the service of those who are in need.
They also picked on Archbishop of Dublin Diarmuid Martin, Brendan O'Carroll, and Panti Bliss.
Then they let out mighty roars:
Siobhan Hughes / YouTube
Has anybody nominated the Pope yet? Because surely that's next.
(Along with the Irish Motor Neurone Disease Association, Frs Duggan and O'Connor did it in aid of Tomorrow for Tomás.)