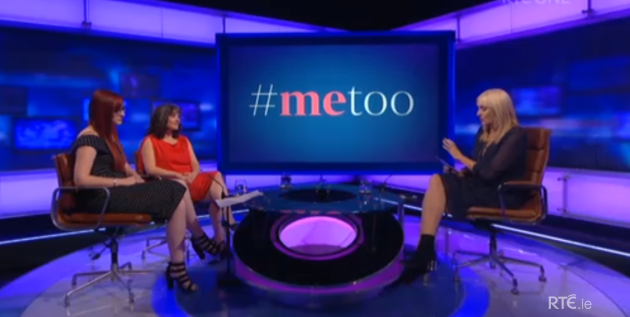 RTE RTE
ON TUESDAY NIGHT, RTE's Prime Time aired a segment on the status of the #MeToo movement following the sentencing of Bill Cosby. While acknowledging that the movement had empowered to speak up about abuse they had suffered, the programme worried that perhaps it was all going a little too far.
On television, Miriam O'Callaghan asked, "But is there a danger that the #MeToo movement may be going too far?" A tweet from the programme's official Twitter account posited that it may be "doing more harm than good".
After a brief report chronicling the timeline of #MeToo, O'Callaghan moderated a debate between journalists Roe McDermott and Larissa Nolan with McDermott arguing in favour of the movement and Larissa Nolan expressing misgivings about what she characterised as a "vigilante movement".
Watching the debate, I couldn't help but think that it was a bizarre way to frame the debate on this of all weeks. A week in which Bill Cosby was sentenced for sexual assault having been exposed as a serial abuser. A week in which multiple allegations of sexual assault were leveled against Supreme Court nominee Brett Kavanaugh. A week in which Sexual Violence Cork stated that three first-year students in the city had reported being raped since this semester commenced.
Since the #MeToo movement caught fire, it has had its detractors. People have likened it to a witch hunt or a battle of the sexes. They have ominously warned of a future in which a man will be accused of sexual assault if he so much as sneezes in a woman's presence. "Whatever happened to innocent until proven guilty?" or "Why didn't you go to the police?" they cry.
Most of these criticisms are submitted in bad faith from people who desperately seek to uphold a system in which men are afforded the benefit of the doubt and women are seen as the true aggressors.
They conveniently look past the fact that the vast majority of allegations that have come to light since last year have been heavily corroborated and substantiated by rigorous reporting. They overlook the reality that just a tiny minority of rape accusations are later found to be false. They ignore the fact that in coming forward with a sexual assault allegation, a woman is far more likely to ruin not a man's life but her own.
For Prime Time to entertain the idea that #MeToo has either gone too far or has the potential to do more harm than good suggests both a distrust of women and an unwillingness to reckon with a legacy of men committing sexual crimes with impunity.
#MeToo isn't a perfect movement, but it has nonetheless achieved a hell of a lot in less than twelve months. We have seen powerful men like Harvey Weinstein, Bill Cosby, Leslie Moonves, Matt Lauer, Charlie Rose, Louis CK, and Kevin Spacey, among many others, exposed as predators and bullies who victimised men and women alike.
Victims of sexual crime have been inspired to come forward with their own stories in the knowledge that they may finally be believed after ten, twenty, fifty years of suffering in silence. It has prompted a belated discussion on consent, coercion and abuses of power.
But there's still progress to be made. We have to keep talking about sexual violence and recognise it doesn't always happen in a darkened alley but that often it happens in bedrooms.
We have to learn to take it as a given that there is no such thing as a perfect victim and that a woman is never, ever to blame for being raped or sexually assaulted. We have to recognise that rapists come in all shapes and forms. Finally, we have to stop treating victims of sexual crime as though they are guilty until proven innocent.
As long as a man's reputation takes precedence over a woman's truth, then we have work to do.
Has #MeToo gone too far? It hasn't gone far enough.
DailyEdge is on Instagram!