THOSE NAKED photos of Prince Harry went around the world yesterday after being leaked to TMZ. But the media in Britain were left in a bind, after the royal family reportedly threatened legal action against anyone publishing them.
According to the Daily Telegraph, the office of Prince Charles issued a stern warning to newspapers that publishing the pics would be "a breach of the prince's privacy".
But the photos – which according to the Times were being shopped to UK media for £5,000 – represented a huge potential payday. So what to do? Well, there were a couple of creative solutions.
1. The Topless Tease
By far the most popular option. Several papers splashed the story on the front page, using previous images from Harry's evidently nudity-intensive trip to Vegas which showed him topless. But cropped so you can't see that he isn't actually displaying His Royal Trousersnake.
Daily Express

Daily Mirror

Daily Star
2. The Screen Grab
The Daily Mail ran this picture of a Google Image search in its story about the monarchy's photo ban:
Screen grab/Mail Online
The story warns that the pictures – being online and all – "were available to millions of internet users around the world – including in Britain". And effectively gets around the ban by showing the images, only really, really small. Clever.
3. The Re-Enactment
But the innovation award goes to the Sun, which persuaded its features picture editor Harry Miller ("our very own Harry") – and, somewhat more dubiously, a 21-year-old intern named Sophie Henderson – to pose for a re-enactment of the Prince Nekky shot.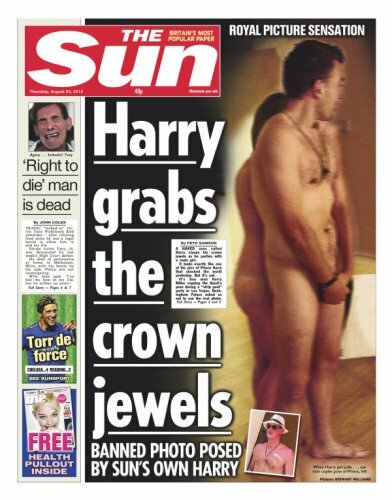 (via @suttonnick on Twitter)
As the front page states: "It looks exactly like one of the pics of Prince Harry that shocked the world yesterday. But it's not."