EVERY WEEKDAY MORNING, DailyEdge.ie rounds up the best of the day's celebrity dirt from the top to the very bottom.
Daily Mail Daily Mail
Prince William was caught rapid dancing in a nightclub by himself to Luniz's I Got 5 on It. There but for the grace of God go any of us.
Daily Mail reports that Prince William was on a "lads' skiing trip in Switzerland" when he was recorded throwing some shapes in a nightclub in Verbier.
The newspaper also reports that he was spotted dancing to "some electronic dance music". Alright, Dad.
Furthermore, Daily Mail reported that Prince William left his wife and two young children at home, and skipped a service in Westminster Abbey to mark Commonwealth Day to go on the trip.
The prince's decision to miss such a key event in the royal calendar will revive criticism that the father of two is 'workshy' and failing to knuckle down to his royal role.
Enjoy his dancing below and count your lucky stars that you're not famous.
mrvideouploads1 / YouTube
Snoop Dogg has landed himself in hot water after his latest video depicted him pretending to shoot a President Trump lookalike. 
The video shows the rapper holding a gun towards a clown dressed as President Trump. He pulls the trigger, but the gun releases a 'BANG' flag.
PrankvsPrank / YouTube
Trump's lawyer Michael Cohen called the video "disgraceful" and demanded that Snoop Dogg apologise to the President.
There's absolutely nothing funny about an assassination attempt on a president, and I'm really shocked at him because I thought he was better than that.
I certainly would not have accepted it if it was President Obama. I certainly don't accept it as President Trump, and in all fairness, it's not funny, it's not artistic.
Meanwhile, the Secret Service says it's "aware" of the video.
Snoop Dogg doesn't seem too bothered by the scrutiny.
Does Rob Delaney know who Rita Ora is? Last night, Chelsea Handler shared a photo of herself at dinner with Rita Ora, Rob Delaney, Naomi Campbell and Alexa Chung. You know, the crew.
The dinner was recorded for a segment as part of Handler's Netflix talk show.
This morning, Delaney shared the image on Twitter and wrote, "Lazy breakfast with my wonderful nieces," and tagged Chelsea Handler, Naomi Campbell and Alexa Chung.
Crucially, he did not tag Rita Ora.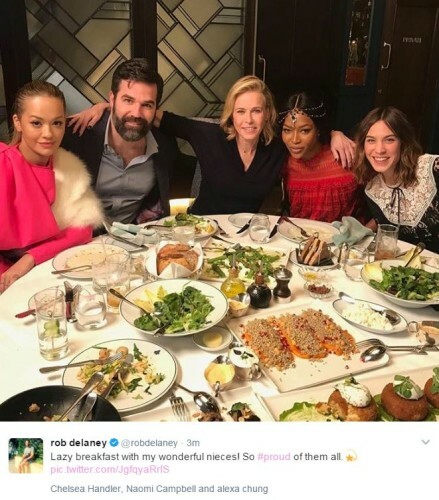 Rob Delaney / Twitter Rob Delaney / Twitter / Twitter
Does this mean that Rob Delaney doesn't know who Rita Ora is? If so, he's far from the only one.
Queen of the Whos.
And the rest of the day's dirt…
DailyEdge is on Snapchat! Tap the button below to add!