Pinterest Pinterest
YOU MIGHT HAVE heard of the old trick on how to keep champagne or Prosecco fizzy overnight - that is, to stick a spoon in the bottle's mouth, as above.
But, as with many old wives' tales, scientists have looked into it and proven that putting a spoon in there makes no difference at all to the bubbles. None whatsoever.
How disappointing.
A Standford University study into the champagne/silver spoon myth was conducted – and categorically found that the spoon makes not a jot of difference overnight to champagne bubbliness.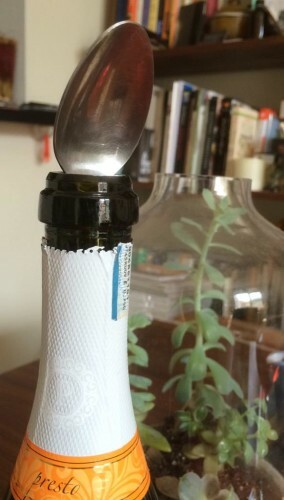 Twitter Twitter
It turns out though that putting the cork back in the bottle is the single worst thing you can do, as the study outlined:
The spoons, silver or stainless, were not especially successful in maintaining the sparkle of the wine. But spoons and all other treatments worked better than re-corking the bottles. At least in this test, re- corking seemed to be the best way to make champagne lose effervescence and taste.
The Kitchn blog also did its own in-house testing on the theory – and found the same results. Their round table of tasters actually found that no spoon at all was the best – after ranking these varieties after one night:
Kitchn Kitchn
The Wine Folly blog has also investigated and discovered that, as with all the others, this one is just a myth. The popular Discovery series Mythbusters in the US checked into it as well and declared it to be a myth.
The researchers at Stanford did give some advice on what is the best thing to do with a half-empty bottle:
Keep it cold. In fact, never let it warm up. That's the secret.
So now.