Updated 11.09
TWITTER IS ABUZZ with questions about what has happened to the Molly Malone statue today.
Is she getting a clean? Is it a prank? Or is she just sick of being photographed?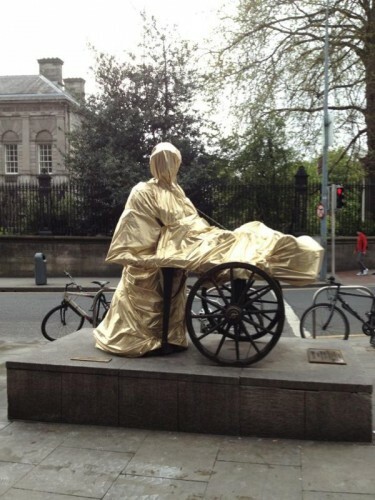 Molly Malone on Dublin's College Green this morning, covered in some type of gold cloth. Let us know in the comments section what you think is happening.
Thanks to Pam P for spotting this today and letting us use her image. Follow her on Twitter at @Pamille
[Update]
Molly isn't the only statue to be covered today. Countess Markievicz has also been showered with gold as part of an "intervention" by a group of Dublin's art and architecture students.
A collaboration between NCAD and UCD students – entitled Urban Interventions – culminates today in the Grafton Street area with a number of "temporary manifestations of creative work within a public space".
Artist Susan Connolly used gold woven nylon and rope in her project Visible/Invisible: The Monument's Day Off.
The final "intervention" will take place at the DIT School of Music on Clarendon Row at noon during which the sounds of rehearsals taking place in the building will be amplified out onto the streets.