EVERY WEEKDAY MORNING, DailyEdge.ie rounds up the best of the day's celebrity dirt – from the top to the very bottom.
#FIX IT SUNDAY Today FM presenter Ray D'Arcy has revealed how much he's willing to spend on protecting his crown jewels.
And the grand total is… €30. Oh.
He took part in a world record attempt for the most water balloons thrown at one person at the World Street Performance Championships in Dublin yesterday, and told the crowd beforehand that he had splashed out €29.99 on a protective 'cup' for his bits.
Photocall Ireland
The good sport told his wife-to-be and two children that he loved them before taking several hundred water balloons for the team.
#NOT REAL TO ME Brian (neé Bryan) McFadden has revealed (via Twitter) the names of the rudest celebs he's ever met….
And the winners are:
… the red head fella from Simply Red, or James Blunt.
Brian, you could at least call Mick Hucknall by his given name. Rude.
Meanwhile, it seems the  former Westlife singer may have saved himself €1000.
He had originally offered a reward to whoever could help him to shut down a fake Twitter account in his name.
McFadden then tweeted that the princely sum would go to anyone who identified who owned the account, but then realised that if enough people reported the imposter, it would be automatically shut down.
His legions of fans (I know, right?) dutifully responded.
Farewell @BrianMcFaddenn. It was good knowing you.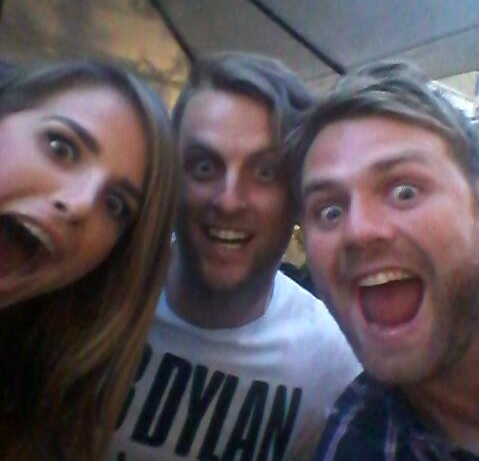 The real Brian with wife Vogue and pal. Gas tickets the lot of them (@BrianMcFadden)
#RIP Glee actress Lea Michele has asked for privacy after the death of her boyfriend and co-star Cory Monteith.
Monteith was found dead in a hotel room in Vancouver on Saturday. He was 31.
In a statement Michele has asked for privacy "during his devastating time". (People)
Meanwhile stars like Taylor Swift, Rihanna and Neil Patrick Harris have paid tribute to Monteith following his death. (BBC)
And the rest of the day's celebrity dirt…