TODAY, THE FIRST meeting of the Oireachtas committee on the Eighth Amendment takes place on the opening day of the new Dáil term.
Abortion is set to be high on the agenda following the Citizens' Assembly recommendation to replace or amend the Eighth earlier this year.
To mark the first meeting of the committee, ROSA – the group for Reproductive rights, against Oppression, Sexism and Austerity - held a protest outside the Dáil.
And they came dressed as Handmaids from The Handmaid's Tale
It was a striking image outside Leinster House when they gathered at 1pm – just half an hour before the committee began
Of course, The Handmaid's Tale is the hit US television show of 2017, based on Margaret Atwood's novel – recently dominating the Emmy Awards, amidst massive critical acclaim.
It tells the dark, near-future story of how worldwide infertility has led to the conscription of the few remaining fertile women – who are submitted to rape by their male masters so that they can provide children.
They are called The Handmaids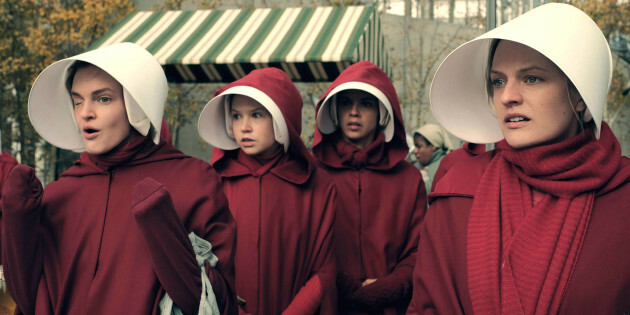 Channel 4 Channel 4
And ultimately the control over women's bodies shown in the TV show has inspired the uniform for today's protest
ROSA, writing on the Facebook event page, called for more "handmaids" to join in:
Join us as handmaids as the Oireachtas Committee on the 8th Amendment starts its deliberations. After the clear pro-choice recommendations of the Citizens' Assembly, we will not accept ANY retreat.
Now it is left in the hands of 21 politicians, only a handful of whom are pro-choice, to decide what legislation we will get. We need to put them under such pressure they cannot but recommend pro-choice legislation – along the lines of the Citizens Assembly, nothing less.
Along with the costumes, they held signs saying that there should be "no retreat" from the Citizens' Assembly
A powerful visual.
You can follow minute-by-minute updates from inside the committee on TheJournal.ie's liveblog here.
DailyEdge is on Instagram!