MORTDECAI, THE FILM nobody can quite believe is an actual thing, opens in cinemas today. Starring Johnny Depp as a man with a moustache, the film has received a right drubbing from critics.
Seriously, the reviews are something else. 
Robbie Collin of The Telegraph called the film "psychotically unfunny".
It's hard to think of a way in which the experience of watching the new Johnny Depp film could be any worse, unless you returned home afterwards to discover that Depp himself had popped round while you were out and set fire to your house.
Time Out awarded the film two stars and questioned who its target audience was.
It's hard to escape the suspicion that the only people sure to enjoy 'Mortdecai' are Depp, Paltrow and perhaps Tim Burton and Madonna.
Fair point.
"Mortdecai" might as well be called "The Johnny Depp Movie," because its preening star, wearing an ascot and a walrus mustache that becomes a tiresome running joke, is the whole show. And what a frantically dull spectacle this vanity project is.
The Times threw shade at Johnny Depp's OTT accent.
Johnny Depp affects an accent that's so exaggeratedly British he sounds like a one-man Pimm's advertisement as Mortdecai, a dimwit toff art dealer with a taste for port and a moustache that would get him laughed out of Shoreditch.
Lionsgate Lionsgate
The Guardian didn't hold back at all.
The poster is awful. The premise is awful. To be frank, quite a lot about it is awful…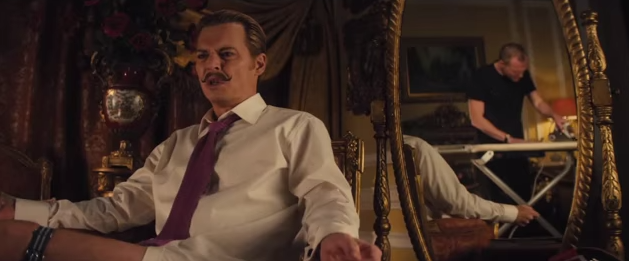 Lionsgate Lionsgate
But the most delightful review came courtesy of Kyle Smith at The New York Post.
"Mortdecai" is mortdifying, a mortdal sin of a movie that's headed for the cinematic mortduary.
mtv / Tumblr mtv / Tumblr / Tumblr
As for Irish reviews? Apparently the film didn't screen for critics here. We wonder why.