IN THE WAKE of the J-Law nudes controversy, the issues of consent, misogyny and privacy have largely dominated the Twittersphere today.
As outlined in this post earlier, there remains a certain amount of victim-blaming with many being of the school that the celebrities affected shouldn't have taken the nudes in the first place if they didn't want them to be disseminated.
A proponent of this logic? Ricky Gervais.
Today, he posted this tweet.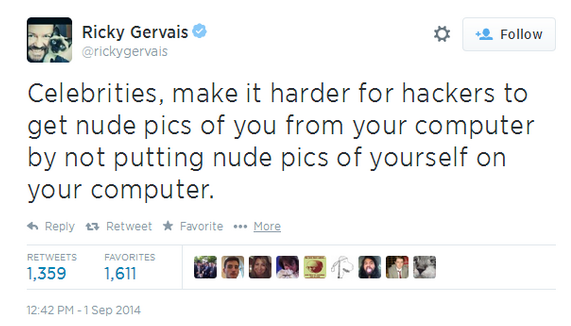 Emily Reynolds / Twitter Emily Reynolds / Twitter / Twitter
It didn't go so well for him.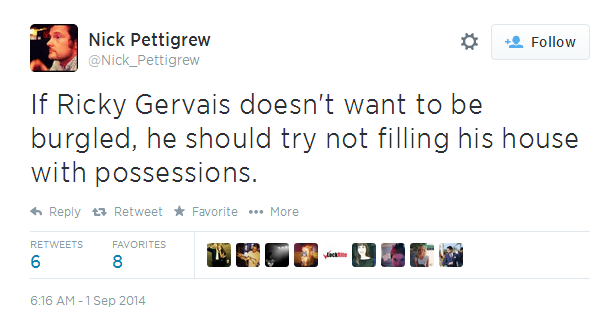 Nick Pettigrew / Twitter Nick Pettigrew / Twitter / Twitter

michelle / Twitter michelle / Twitter / Twitter
He promptly deleted the tweet, but has remained relatively unapologetic and tried to defend the joke.
But his backtracking has done little to quell the criticism.
Last night, an anonymous hacker on 4Chan posted nudes of several celebrities, including Jennifer Lawrence, Kate Upton, Kirsten Dunst and Mary Elizabeth Winstead.
Jennifer Lawrence's publicist described the leak as "flagrant violation of privacy" and warned that authorities would prosecute anyone who shared the photos of Jennifer Lawrence.
Similarly, Kate Upton's attorney described it as an "outrageous violation" and said anyone disseminating the images would be pursued to the fullest extent possible.