EVERY WEEKDAY MORNING, DailyEdge.ie rounds up the best of the day's celebrity dirt – from the top to the very bottom.
#RIRI: You may remember that celebrities were kindly requested to refrain from showing off their naughty bits at the Grammys.
Well, NOBODY puts Rihanna in the no-naughty-bits corner. She went right ahead and arrived in a nipple-baring dress:
OK, we see your nipples again Rihanna. Happy now? (Jordan Strauss/AP)
She wasn't alone, either. Miley Cyrus had a not-very-accidental-looking wardrobe malfunction at a pre-awards party. (The Sun)
And Katy Perry kindly kept her nipples under wraps, but still got a severe ogling from Ellen DeGeneres:
Is everyone sick of the word 'nipples' now? Yeah, us too.
#AWESOME: Meanwhile, Mumford and Sons may have won the top prize at the Grammys (for reasons inexplicable). But I think we can all agree that Kelly Clarkson was the REAL winner. Just look at this photobomb!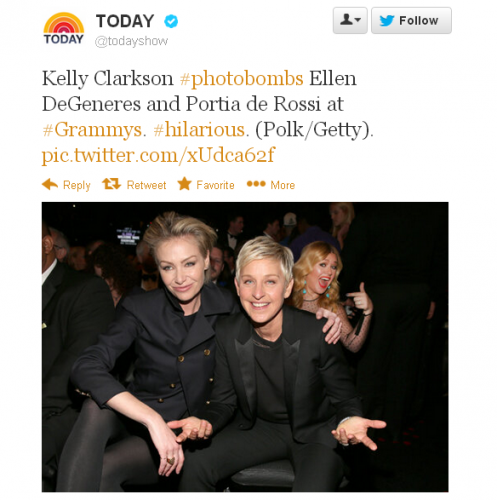 Nice work Clarkson. (Also, the head on Portia de Rossi.)
#HER MADGE: Madonna is on Instagram, everyone! Yes, this is totally happening. She's already got more than 50,000 followers and she hasn't even taken a photo of her breakfast yet.
So what have we learned? Well, firstly that she enjoys a nice Martini:
And secondly that she's "addicted to sweat".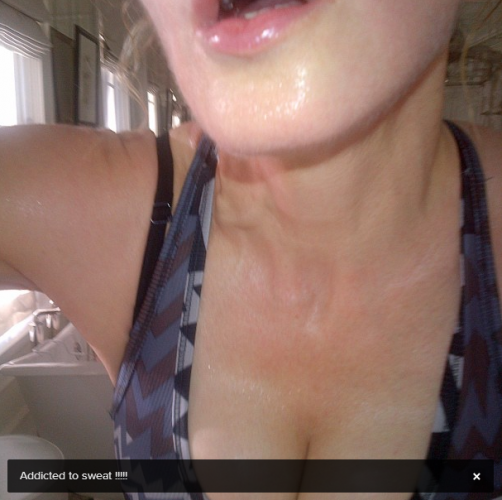 So, there's that. (Instagram)
And the rest of the day's dirt…