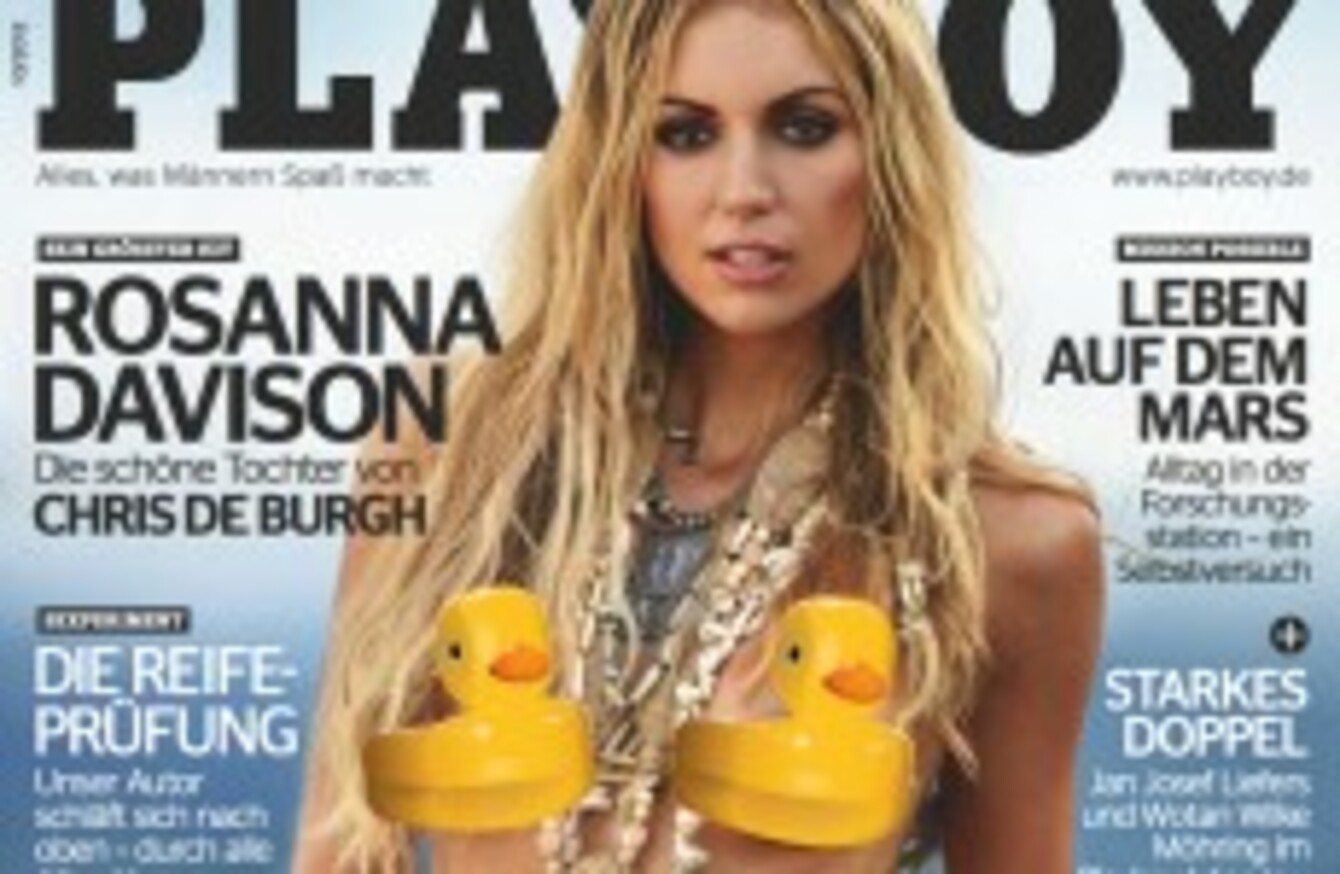 Rosanna's last outing. We have added ducks for modesty.
Image: Playboy Deutschland
Rosanna's last outing. We have added ducks for modesty.
Image: Playboy Deutschland
EVERY WEEKDAY MORNING, DailyEdge.ie rounds up the best of the day's celebrity dirt – from the top to the very bottom.
#WHOLE LOTTA ROSIE: Rosanna Davison is going to be revealing her boobs again. And she'll be showing the photos for her grandchildren.
Rosie's valuable frontage is due to appear in US Playboy – the big time! – next month.
She'll be regifting US readers with the same shots that already appeared in the German edition, and all over the internet.
Suggesting that she may not be aware of the world wide web, Davison told the Irish Sun:
I'm lucky that they were able to use the same pictures again as they haven't been seen in the States.
before adding:
It's definitely one for the grandkids.
It sure is, Rosanna. It sure is.
We'd be expecting her fiancé Wes Quirke to be tweeting up a storm over this with some inventive hashtags, but he appears to have quit Twitter. Did all the hashtags get too much for him? Answers on a postcard please.
#WAND ERECTION: One Direction have been driving the internet into a frenzy in advance of the release of their new video, which is due out today.
Fans have become consumed with the rumour that Harry Styles is dating a girl who came to a concert – the one who held up this enterprising sign.
Also, did her mother really let her out like that without a jacket? (Twitter/@LatestAbout1D)
The fan was named as Alexis Allen online, amid frenzied reports that Styles had flown her to Houston and the pair were dating. It doesn't appear to be true. But naturally, that didn't stop the vitriol.
At least one fan had the decency to apologise now things have calmed:
Aw.
#QUEEN MIRREN: Helen Mirren doesn't have children, but if she did, she'd probably be the best mother in the world.
What would be the first word you'd teach your baby daughter, Helen?
The first words I would have taught her would have been "f*** off" because we weren't brought up ever to say that to anyone, were we? And it's quite valuable to have the courage and the confidence  to say, "No, f*** off, leave me  alone, thank you very much.
Please be our honorary mother. We beg you. (Mail Online)
Helen Mirren, probably telling someone to f*** off. (Jordan Strauss/AP/Press Association Images)
And the rest of the day's dirt…