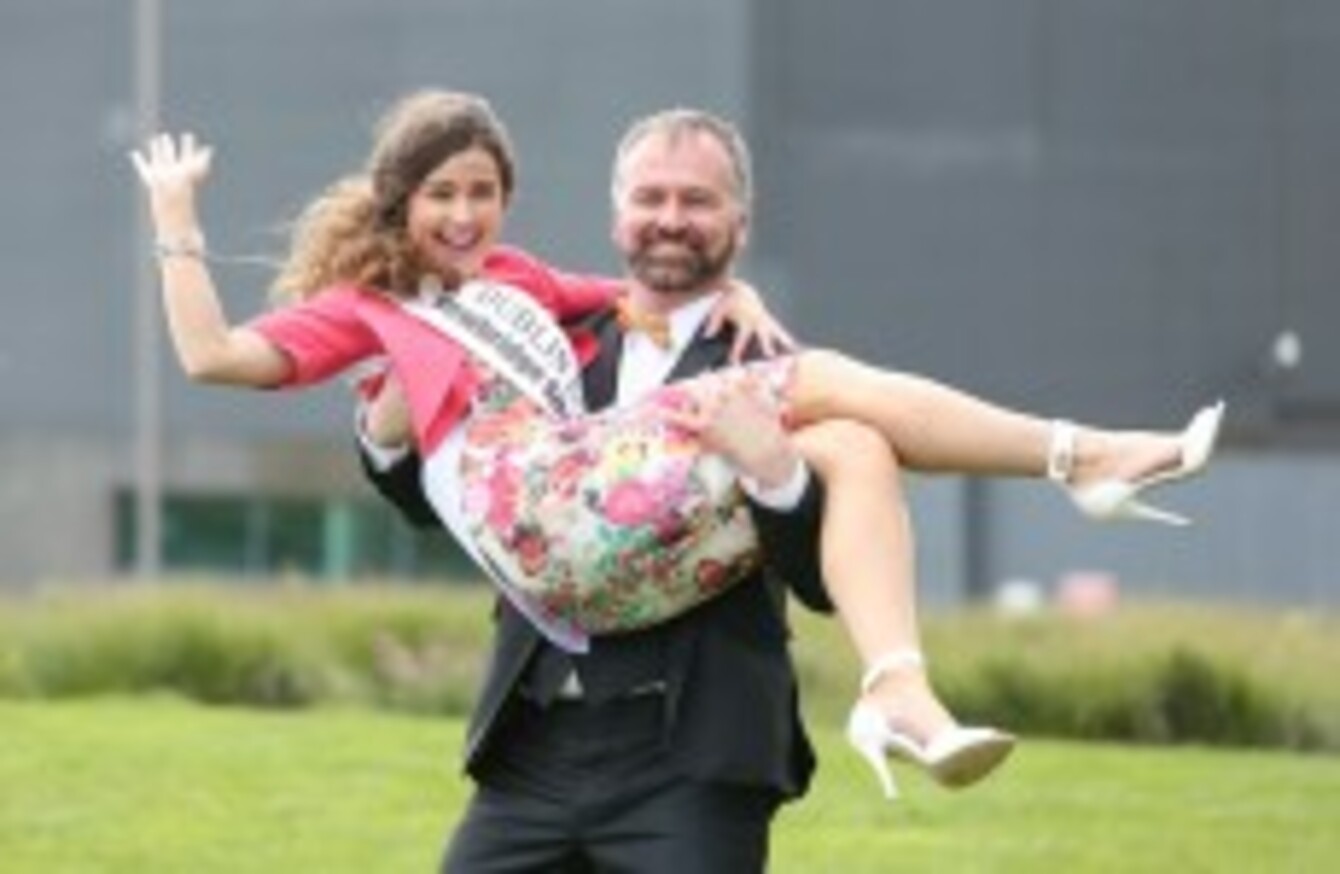 Dublin Rose Roisin Lyons, doing a great job of not panicking.
Image: Sasko Lazarov/Photocall Ireland
Dublin Rose Roisin Lyons, doing a great job of not panicking.
Image: Sasko Lazarov/Photocall Ireland
THE ROSE OF Tralee international finals kick off tonight, with a bumper three-and-a-half hours of coverage on TV and online.
We'll be liveblogging the whole thing from 8pm here on DailyEdge.ie. But before we get going, here's a roundup of the Roses that are the favourites to claim this year's sparkly tiara – and what they say about their frightening array of accomplishments.
First off, though…
How on earth do bookies calculate the odds for something like this?
Paddy Power – who say they're expecting to take a six-figure sum on the competition – tell DailyEdge.ie their first port of call is the Rose's official blurb and picture on the festival website. "The blurb is the first indicator of the entrant's personality, interests, achievements etc," says spokesperson Féilim Mac An Iomaire. "So that's what we use to make the initial odds."
And what makes a promising Rose?
Says Mac An Iomaire:
Things to look out for are achievements in relation to charity work/fundraising (not to be confused with intentions to do charity work in the future, which are commonly stated for some reason) and community involvement in GAA or music or dancing clubs.
The odds are then continually adjusted depending on which Roses are attracting the most (or the fewest) bets.
Does the live show actually count for anything, then?
Oh yes. OH yes. "Although the judges may already have strong ideas about who they would like to crown the winner, the stage time is significant," Mac An Iomaire says.
A good or bad performance and crowd reaction must be able to sway the result. By the time the last Rose leaves the stage, we usually are pretty much down to a handful of possible winners in the betting.
Got that? Now, here are the favourites so far – in reverse order, leading up to the bookies' choice. All odds correct at the time of publication.
5. Queensland Rose Ashlinn O'Neill (Paddy Power 7/1, Boylesports 5/1)
Solicitor and self-proclaimed "foodie" O'Neill lives in Brisbane, where she's able to indulge her "love of theatre and musicals". Incredibly, this is her 11th trip to Ireland for the Rose of Tralee festival, meaning the 27-year-old has attended once every two or three years on average since birth. No biggie.
4. Galway Rose Nicola Corcoran (Paddy Power 11/2, Boylesports 6/1)
Corcoran, 24, is a special class teacher for children with autism. But that's not all: she is also an "active Renmore parishioner, a youth officer and a youth minister" plus a serial volunteer abroad.
Extracurricular? Well, she's an All Ireland medal for camogie. "I love GAA, especially camogie, travelling, surfing and hill walking."
3. Philadelphia Rose Maria Walsh (Paddy Power 11/2, Boylesports 5/1)
Walsh was born in Boston before making the (fairly significant) move to Shrule, Co Mayo in 1994, and back to Philadelphia in 2011. She's a studio manager for US clothing chain Anthropologie, and plays with her local Gaelic team.
She's also a Pioneer. Expect Dáithí to mention this.
2. Cork Rose Anna Geary (Paddy Power 5/1, Boylesports 4/1)
From Milford and "26 years young", Geary works for Dell where she is also a "Charity Champion". By the by, she spends her spare time captaining the Cork Senior Camogie team and being an ambassador for the Make-A-Wish Foundation.
I love fashion, food, dancing and enjoy the challenge of Bikram Yoga.
1. Carlow Rose Miriam Smyth (Paddy Power 4/1, Boylesports 10/3)
This year's favourite (at the moment anyway) is a 24-year-old medical student from Ballon whose "second love in life is dance". She also has a "love of Gaeilge" and says ballet is a "huge part of my life," concluding:
I am girly girl and love nothing more than spending my time off having coffee with my Mum and the girls chatting, shopping and off-loading.
Join us from 8pm tonight for the liveblog!