CHRISTMAS TELLY HAS never been the same since The Den Christmas Special went the way of the dodo.
There are still some gems to watch out for today though. Here's what's (not) on, courtesy of Not The RTÉ Guide.
Set the Skybox…
06:00 RTÉ Two Christmas Morning LIVE
Stephen Byrne and Sinéad Kennedy are here to kick off your Christmas morning with a bang!
They'll be bringing you a constantly updated list of open petrol stations, complimenting each other's jumpers, and talking to Santa who will be personally apologising to children who didn't get what they wanted.
10:00 RTÉ One Christmas Morning Mass LIVE
All the hottest liturigcal action as it happens from Christ Church Cathedral. Just leave it on in the background while you're reading Cheryl Cole's book, Jesus won't mind.
11:00 RTÉ Two Niall Horan's Big Family Christmas
Two hours of uninterrupted hidden camera footage from in and around Niall Horan's house.  Watch in wonder as Niall tries to look impressed by a Lynx gift set and awkwardly hugs an aunt he hasn't seen in ages.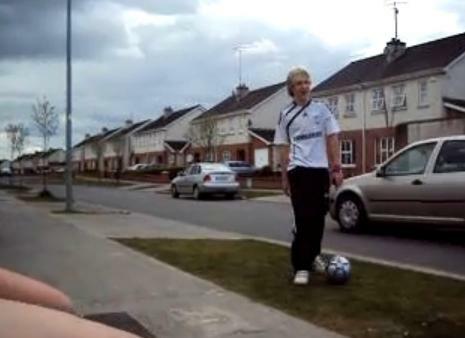 Niall Horan also plays a game of keepy-uppies with the Mullingar massive (YouTube/CherMcCrave)
15:00 RTÉ One A Christmas Poem from Michael D. Higgins
"Upon Awakening Christmas Morning In The Park Of The Phoenix"
15:20 RTÉ One Still Michael D's Christmas Poem
15:30 RTÉ Two Baby Animals In Santa Hats
Puppies, kittens, pygmy hippos in tiny Santa hats frolicking with Christmas cheer because you're too full of turkey to focus on anything more complicated. Just smile at their crazy antics and doze for a while.
This uncooperative cat probably won't feature (Petar Petrov/AP/Press Association Images)
15:50 RTÉ One The Big Christmas Movie: Cannibal Holocaust
18:00 RTÉ One The Angelus
Special double-length Angelus for the day that's in it
18:02 RTÉ One Six Two News
The Christmas newsreaders are released from the depths of the newsroom for their one brief, glorious day of fame a year. But there is no news, for it is Christmas.
19:00 RTÉ One Rachel Allen's Scrummy Yummy Christmas Cakes
Look at your Christmas cake. Now look at what Rachel is making. Yours is crap isn't it? You've pretty much ruined Christmas. Oh yes, your family say that they loved yours but look at how they're looking at Rachel's cake, look at the need, the hunger.
Rachel's dark power grows ever stronger.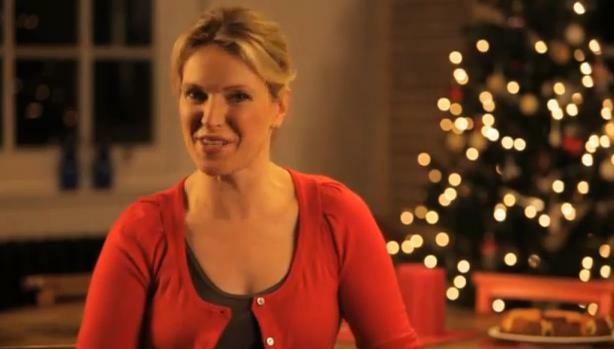 Butttaaaaaah
20:00 RTÉ One Eastenders Christmas Special
Everyone puts aside their differences for a day and everything goes exactly as planned. No one dies, no one shouts, no one leaves.
Everyone goes to bed with a full belly and a fuller heart, knowing that, even though tomorrow they will surely return to the drudgery and infidelity to which they are all too accustomed, today was a perfect day.
20:30 RTÉ One Mrs. Brown's Boys Christmas Special
You can give this one a miss actually because your parents will recap the whole thing for you tomorrow.
21:35 RTÉ One The Frontline Christmas Special LIVE
Pat Kenny sits in an empty studio with Leo Varadkar. "This was a mistake", Pat thinks to himself as Leo sets his paper hat at a jaunty angle and prepares to read another joke from the crackers.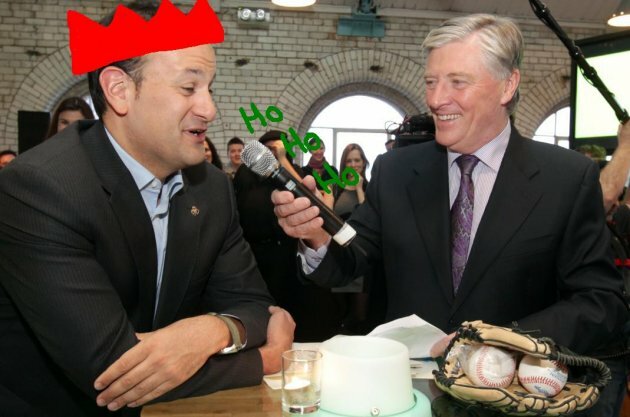 "Because the sea weed. Geddit? Geddit?" (Photocall Ireland)
22:35 RTÉ One The Meaning of Life Christmas Special
Gay Byrne dresses up as the Baby Jesus and interviews himself.
23:10 TV3 A Vincent Browne Christmas
Vincent Browne stands outside Richard Boyd Barrett's house calling him a hypocrite for enjoying the bourgeoise delights of Capitalistic Christianity until Richard invites him inside for a hot port and a hug.
(Photocall Ireland/Santa's Elves)