LAST NOVEMBER, IT was announced that RTÉ will stop making TV shows for young people in-house.
For RTÉjr presenter John Sharpson and puppeteer Ray Cuddihy, this was devastating news.
So they decided to set up their own YouTube channel for kids, and SHARUF!* was born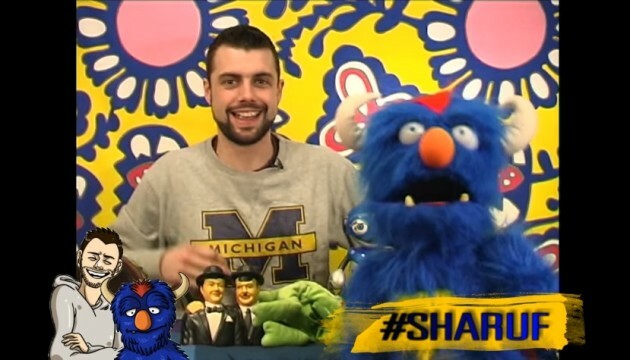 SHARUF! SHARUF!
*a combination of Sharpy and Rufus
Featuring John in the hotseat and Rufus the sarcastic puppet – voiced by Ray – as his sidekick, the pair started putting out videos last month on YouTube.
And with 17 videos already made, it's going from strength to strength:
SHARUF! / YouTube
It all started with an idea down the pub, as John tells DailyEdge.ie:
We were frustrated that RTÉ aren't making steps towards YouTube or anything like that. We were told back in November that RTÉ Jr wouldn't be making kids' shows any more, and it was huge news. We didn't really know whose fault it was but we were just so disappointed because we really enjoy doing the stuff that we were doing.
So me and Ray met up for a drink in the pub, and we said we'd love to do a Den-like show but just make it a bit more current with gaming and things like that. So he just said 'I'll order a puppet' and away we went.
Once Rufus arrived in from New York, the lads set up in John's bedroom in his parents' house with their distinctive backdrop and they were in business
SHARUF! SHARUF!
SHARUF's influences range from jacksepticeye to absolute classics in the Irish kids' TV genre:
I suppose the idea was to recreate a Den TV type vibe, so that the viewers wouldn't really know what's going to happen. We both have huge grá for Den and Zig and Zag – so that's an inspiration. It's not necessarily just for kids, we're hoping parents can watch it with them and get something out of it too.
The laid back conversational style suits the 10-15 minute length of each SHARUF! video, and that approach was there from the off:
"For the first episode, we sat down with a cup of tea and went from there. It's not rehearsed or scripted at all, and that's what we're going for."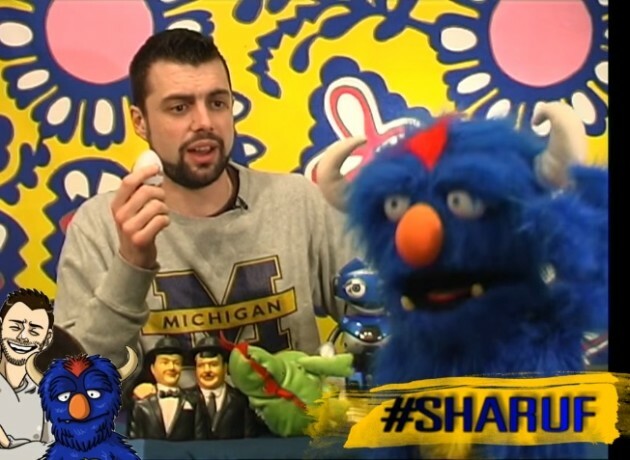 SHARUF! SHARUF!
Ray has some other puppets up his sleeve too – like Sylvester Cobb, the "old timer from Cork"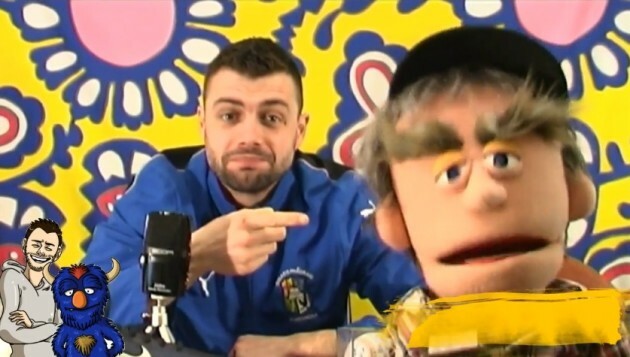 SHARUF! SHARUF!
Within a month, SHARUF! has already got a dedicated following in Ireland and the States, but John isn't anticipating instant internet fame:
We're started off quite small, but we're now pushing towards 1000 subscribers. We're not expecting overnight success, although we're enjoying it and the feedback has been great so far.
John's current work with the massively successful YouTube channel Facts has been an invaluable help in setting up his new channel. But to make the channel really distinctive, Ray's work creating Rufus has been crucial.
John can't get over the transformation when Ray gets into character:
It's the most bizarre thing I've ever seen. I'll be looking him dead in the eye as Ray but he's fully gone into Rufus and I don't know what he's going to say.
When we were trying things out at the start, and he'd just got the puppet, we knew we were going to have to keep it clean but he was saying all sorts! We didn't know what to expect once he's in character. He's grown as a character and tells it as it is. You can't change Rufus now, that's that.
The pair get on very well on screen and the antics are mighty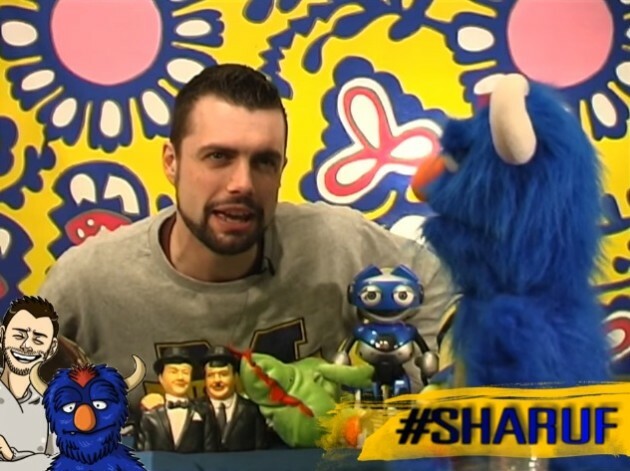 SHARUF! SHARUF!
All together now:
SHARUUUUUUF.
DailyEdge is on Snapchat! Tap the button below to add!