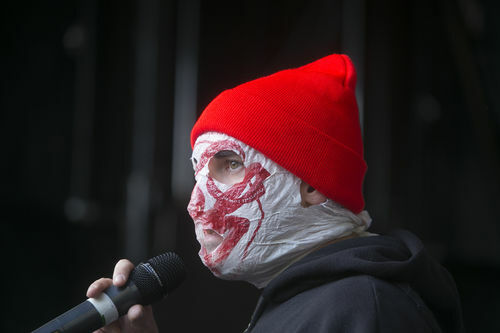 Sam Boal Sam Boal
YESTERDAY IT WAS reported that the Broadcasting Authority of Ireland received 11 complaints after one half of Rubber Bandits referred to communion as "haunted bread" on The Late Late Show.
The complaints were rejected with the BAI stating that it "considered it legitimate for a panellist to articulate their own personal views".
On today's episode of High Noon, George Hook railed against the "barely literate comedians" for offending Catholics in Ireland and pondered whether it would be acceptable to make similar remarks about Islam.
They offended, showed contempt and cared little for the beliefs of a majority of people on this island. Imagine for a moment if they had said that about the Qur'an and Muhammad. Outside RTÉ in Donnybrook that there would have been men armed with machine guns à la Charlie Hebdo had they done it.
Ireland is now a cold place for Christians.
(For what it's worth, Hook has repeatedly made provocative statements about Islam with little or no pushback. Last year, a complaint was made to the BAI, which accused Hook of engaging in "ugly and villifying rants" aginst Muslims. It, too, was rejected.)
Upon being informed of Hook's screed, Rubber Bandits tweeted that George Hook was an "arch gowl".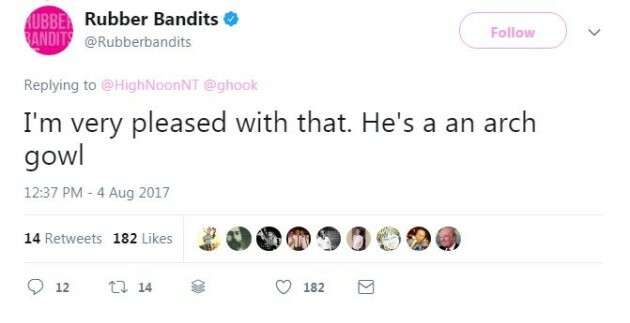 Rubber Bandits / Twitter Rubber Bandits / Twitter / Twitter
George Hook then read out this tweet on air and it quickly became clear he wasn't familiar with the word "gowl".
Maybe he meant ghoul but can't really spell. Maybe that's his problem. The Rubber Bandit, if he meant ghoul, it's 'g-h-o-u-l'. He's got it as 'g-o-w-l'.
But he was soon informed of the word's true definition and was left speechless.
Gowl is a Limerick term for a part of a woman's anatomy? You cannot be serious.
Afterwards, Rubber Bandits tweeted about the incident and described it as "the most Dublin thing that's ever happened to me". (They later acknowledged that George Hook is a Corkonian, but the point still stands.)
Rubber Bandits / Twitter Rubber Bandits / Twitter / Twitter
And then this happened.
A proud day for Limerick.
DailyEdge is on Snapchat! Tap the button below to add!