LAST NIGHT FORMER Rose of Tralee host Ryan Tubridy was challenged by current Rose of Tralee host Dáithí Ó Sé to the ice bucket challenge, live on telly.
Not one to rest on his laurels, Tubridy has already undertaken the task, live on his radio show on 2FM this morning.
He was gleefully aided by breakfast show presenters Bernard O'Shea and Keith Walsh, giggling like brats as they lobbed several bottles of Ballygowan (fancy) into buckets.
Meanwhile other colleagues pressed their snots against the window in anticipation.
Tubs didn't seem too aware of what was about to happen to him, asking first why they were putting water in the buckets ("I thought this was an ice challenge") and then being advised by Keith Walsh to remove items like car keys and shoes and his wallet from about his person.
Here's how it panned out:
RTE2fm / YouTube
That little dance though…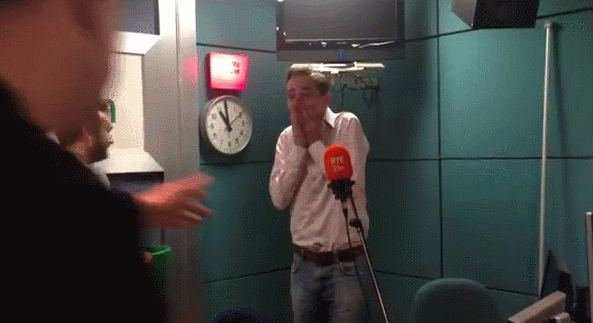 Tubridy nominated Bernard, Keith and Republic of Telly co-presenter Jennifer Maguire to partake in the challenge tomorrow.
We fear that this may run and run until all there is left across the land is millions of freezing people surrounded by discarded buckets, lunchboxes and biscuit tins.
Hey, at least the Motor Neurone Disease Association will be laughing.
Meanwhile Marty Whelan, who was also nominated by Dáithí has done his duty too.
MIND THE GOOD NEW HAIR MARTY!
RTERadio1 / YouTube