SAOIRSE RONAN MUST be in high form after receiving her third Oscar nomination yesterday afternoon.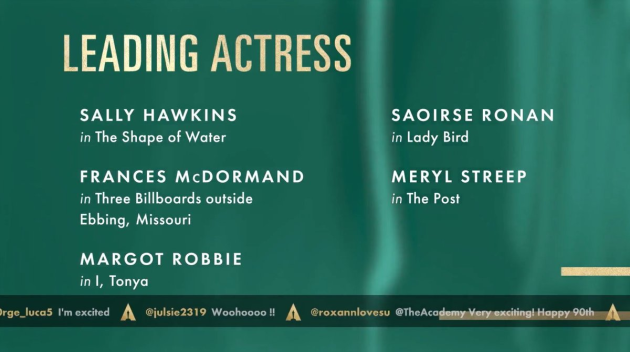 Twitter, The Academy Twitter, The Academy
Saoirse is up for Best Actress for her role in Lady Bird, if you failed to hear that news yet (u ok?).
So how did she celebrate? Did she go on the rip? Did she simply lie down to watch Black Mirror on Netflix (d'you really think she has had time yet?). No, none of those things.
The actress' pal Scarlett Curtis shared a photo of a woman who looks suspiciously like Saoirse sitting by a pile of brown bread and jam, with the number three on top
scarcurtis scarcurtis
She arrived in London yesterday, wearing the same t-shirt, so it's safe to assume it's Saoirse.
It's like her mam planned the whole thing. All that's missing is a cuppa.
The image was initially shared on Scarlett's (Richard Curtis' daughter, we'll have you know) Instagram story and shared all around Twitter by fan accounts.
Scarlett and Saoirse are great pals, even going to Glastonbury together, so it wouldn't be out of the question that they'd be celebrating together.
Saoirse released a statement about her nomination yesterday, saying she was 'incredibly grateful' for the nod:
To have been a part of a film like Lady Bird was a true privilege and I am incredibly grateful to the Academy for recognizing this wonderful story about the beauty and strength of women.  I am especially thrilled to share this moment with Laurie Metcalf and our leader and director Greta Gerwig, who, like Lady Bird, is an incredible woman and a dear friend.
The third nomination for the 23 year old is pretty impressive. Everyone have some brown bread to celebrate. With REAL butter.
DailyEdge is on Instagram!