WITH JUST 10 days to go until the referendum on the 8th Amendment, many Irish celebrities are coming out in support of Repeal.
An open letter calling for a Yes vote on May 25.

We are all #together4yes

Vote Yes on May 25 for a more caring and compassionate Ireland. pic.twitter.com/dSG3W1TGRC

— Together for Yes (@Together4yes) May 6, 2018
A whole bunch of them including Saoirse Ronan and Brían F. O'Byrne appeared in a Together for Yes video last week throwing their support behind the campaign to repeal the 8th Amendment.
Well Saoirse has been speaking about supporting the yes side in the referendum again, She appeared on 'Lorraine' this morning to talk about how passionate she is about being Irish and her thoughts on the impending referendum.
Lorraine / YouTube
I'm fully in support of a yes vote. A lot of the people I know are. There's so many women everyday that have to travel abroad mainly to the UK to have an abortion and what this will do is just give women the choice and full ownership over their own body.'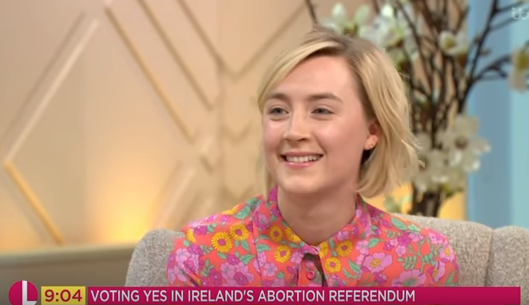 ITV / Youtube ITV / Youtube / Youtube
Saoirse was particularly positive about the young people of Ireland and urged them to make their voices heard on May 25th.
The youth especially of Ireland are incredible and we're so forward thinking and I think since the marriage referendum a few years ago, that has given us such a great push in the right direction and I do believe we'll make the right choice so go out and vote!'
You heard Saoirse, get out and vote on May 25th!
DailyEdge is on Instagram!