SAOIRSE RONAN, CILLIAN Murphy and many more Irish actors are backing a 'yes' vote in the upcoming referendum on the 8th amendment.
In an open letter, the Oscar-nominated actress asked the people of Ireland to vote 'yes' on May 25th to give people 'the right to their own body'.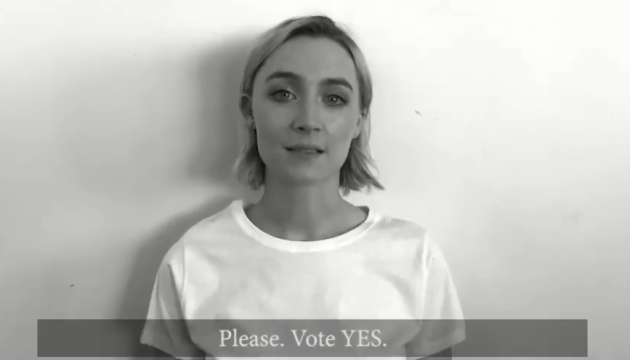 Together For Yes Together For Yes
Ronan was joined in the video by comedian Aisling Bea and fellow actors Cillian Murphy and Tom Vaughan-Lawlor.
Social Media For Yes / YouTube
Can't see the video? Click here.
The transcript for the video reads: "In Ireland today, if the woman sitting next to you is pregnant, she does not have full rights over her own body.
In Ireland today, women who find themselves in crisis pregnancies – be it a scared fifteen year old who has been sexually abused, or a terrified woman who has been raped – are forced to carry the pregnancy to term.
In Ireland today, at least two women or girls are taking abortion pills, unsafely, every day. They risk so much, with no medical support, and the threat of up to 14 years in prison.
In Ireland today, there are women carrying foetuses with fatal abnormalities with no chance of life. They have no option under the law, but to carry to term.
In Ireland today, there are women and girls whose health is on the line, who are travelling abroad for abortions, who are scared and alone.
This needs to change.
DailyEdge is on Instagram!