Each week, we'll be taking a peek into some of our faves' makeup bags to see their must-have products, because we're nosey. This week, it's the turn of fashion journalist and radio presenter Sarah Magliocco.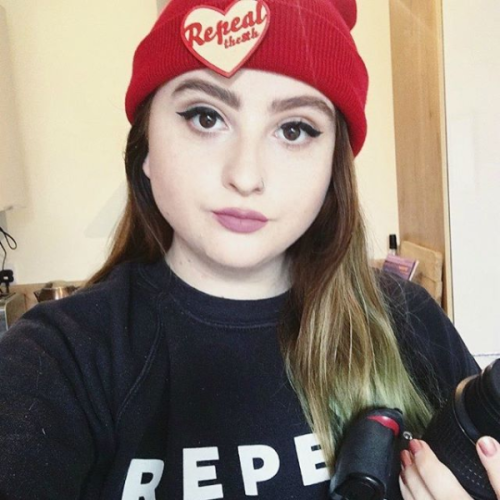 Instagram Instagram
Her earliest makeup memories
"My earliest makeup memory is probably from when myself and my cousin used to sneak into her older sister's room and rifle through her makeup while she was out.
This was in the hey day of luminous orange pan stick and pastel eye shadow, and we would be fighting over the mirror space trying to take in every inch of our newly tanned visages.
"I also used to collect those tacky hair mascaras you would get in teen magazines like Bliss and Girl Talk, and when I saw black eye mascara I was genuinely confused, I thought 'why would you want black streaks in your hair when you could have pink?'
"I was, like, 13 by the time I realised the black or brown mascaras were meant to adorn your eyelashes rather than your Lizzy McGuire inspired up-do.
"I was never really that into makeup as a teen, I was way more obsessed with this stick-on tattoo machine my Mum got me one Christmas, but when I went to secondary school and realised that peel-off dragons were exceptionally uncool and eyeliner was the way to go, I quickly fell into the scene kid/punk rock look that now haunts my archived Bebo pictures.
Taylor Momsen inspired raccoon eyes and pale, Dream Matte Mousse foundation was my go-to for years."
Her makeup bag
"I was shopping in HomeSense for new gaff decor (the Dublin rental market finally came through) when I spotted this bag. It's definitely for toiletries but I needed one that could fit all my bits and bobs.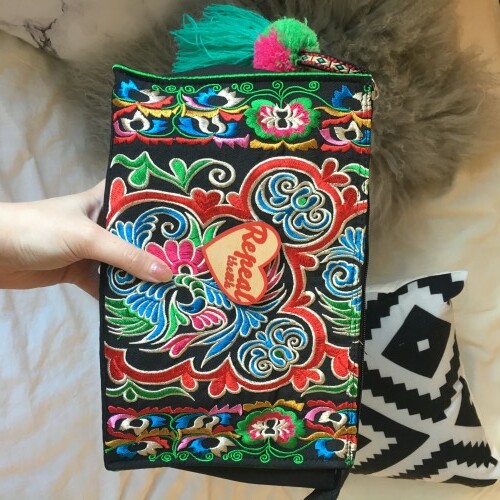 "My Maser Repeal badge pin has finally started to come loose after over a year of being pinned and unpinned to whatever jacket I'm wearing whenever I leave the house every day, so It's retired to the less stressful realm of my makeup bag until I can re-glue it."
What's inside?
"I thought I was relatively low maintenance when it came to makeup but now that you're making me look through it, I'm kind of thinking Iv'e been in denial about all the stuff I put on my face.
"I don't wear mascara because I'm a lash extensions woman through and through so maybe the lack of that time-consuming step made me think I was low maintenance.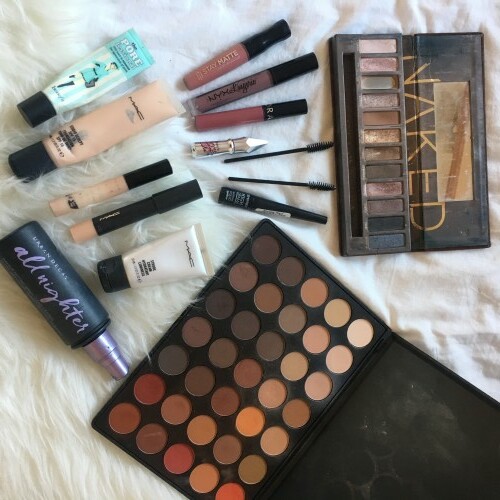 "Lush's Gorgeous Moisturiser makes the perfect base for makeup, plus my skin is super sensitive and dry so it needs a good dollop of moisturiser morning, noon and night.
"Again, my skin is pretty sensitive and love having breakouts and bouts of terrible texture when I need it least, so the Benefit Porefessional primer is a life saver.
"I'm not a big fan of powder highlights so when my 15-year-old sister who actually knows way more about makeup than I ever will recommended M.A.C Strobe Cream to me, I was shook. One tiny bottle lasts ages and at €10, it's probably one of the best value bits you can get from M.A.C.
"I'm pretty sure I'll never have to buy another eyeshadow for the next decade after getting the Morphe 350M Palette. It's all matte shades because I'm not really into shimmer, but I also have my Urban Decay Naked Palette (which I've had for like, five years) for when I need to dip into a shimmer for a particular look. I love a red smoky eye for night and a matte beige for day."
"My go-to look is a cat-eye flick, but I swap my eyeliner's around quite a bit. I'm still looking for the perfect one and while this Seventeen High Drama Liquid eyeliner is a newbie, it could be a winner.
"I have a thing about my eyebrows, I like them really thick and slightly unruly. I like to to think I have Lily Collins-esque brows, but realistically they're more like Yeti brows. Benefit Gimmie Brow is perfect for filling them out and brushing them up.
"Collection Lasting Perfection Concealer is my holy grail product. I have been using this high coverage concealer since the dawn of time and it's my most re-purchased product ever. Iv'e literally been using it for around eight years now I would say. You can tell it's well used by the fact that every scrap of the printed label has rubbed off!"