PICTURE THE SCENE – your boyfriend has finally recognised you for the catch that you are and what's to subsequently put a ring on it.
*Kim Kardashian voice* "It's what she deserves."
In your excitement, you grab your phone to text your sister to inform her of the Great News™️.
But, in your eagerness, you accidentally text actor Sarah Michelle Gellar.
Yes. As in, Buffy.
Well, that's exactly what Charlene Willis in Georgia did.
So naturally, Sarah took to her Facebook to congratulate her, with an adorable message to boot.
https://www.facebook.com/sarahmichellegellar/posts/1727027367328970
Can't see the post? Click here.
Wholesome, or what?
Sarah wrote:
This is #CharlynWillis. She got engaged yesterday, and meant to text her sister, but in all the excitement, got me instead. Her sister didn't respond, but I did."
So please help me say congrats, to Charlyn. (And her fiancé whose name I don't know) #congratulations."
Charlyn was delighted when she copped the mix up, as you would be.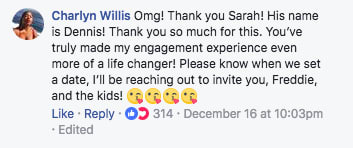 Facebook Facebook
You've truly made my engagement experience more of a life changer! Please know, when we set a date, I'll be reaching out to invite you, Freddie and the kids!"
Wedding Of The Year, imminent.
DailyEdge is on Instagram!