WHAT DO REPUBLICAN Party members want to see during their National Convention? A woman who looks like Sarah Palin taking her clothes off, apparently.
At least that's what one strip club owner is staking his hopes on. The management of Thee Doll House in Tampa, Florida (link probably NSFW) are bringing in a Sarah Palin lookalike stripper next month when the US Republican Convention rolls into town.
The club is bringing in porn actress Lisa Ann – who previously starred in the 2008 masterpiece Who's Nailin' Paylin? – for the occasion, the Tampa Bay Times reports.
Lisa Ann will reprise her role as the Tea Party hunter mom and former vice-presidential candidate, including her trademark specs and updo. And conventioneers get in for a reduced fee – with extra perks for bigwigs:
Senators, House members, Bill Clinton and his cigar and Barack Obama receive free admission.
"Hands down, the Republicans have always been our best customers," Angelina Downey of the national organisation for adult clubs told WFAE.
We get clients from all walks of life, but for whatever reason… I have heard club owners say, 'Boy, those Republicans really are great customers'
Several clubs have reportedly renovated their buildings for the convention, which will officially select Mitt Romney as the party's presidential candidate.
Let's just remind ourselves what the real Sarah Palin looks like: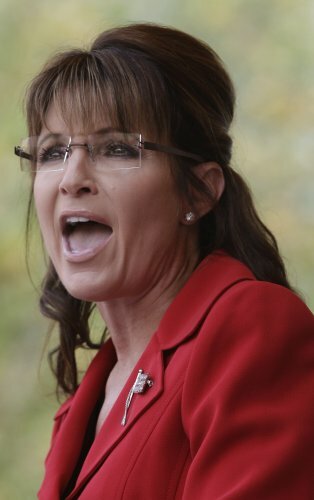 (Stephan Savoia/AP/Press Association Images)