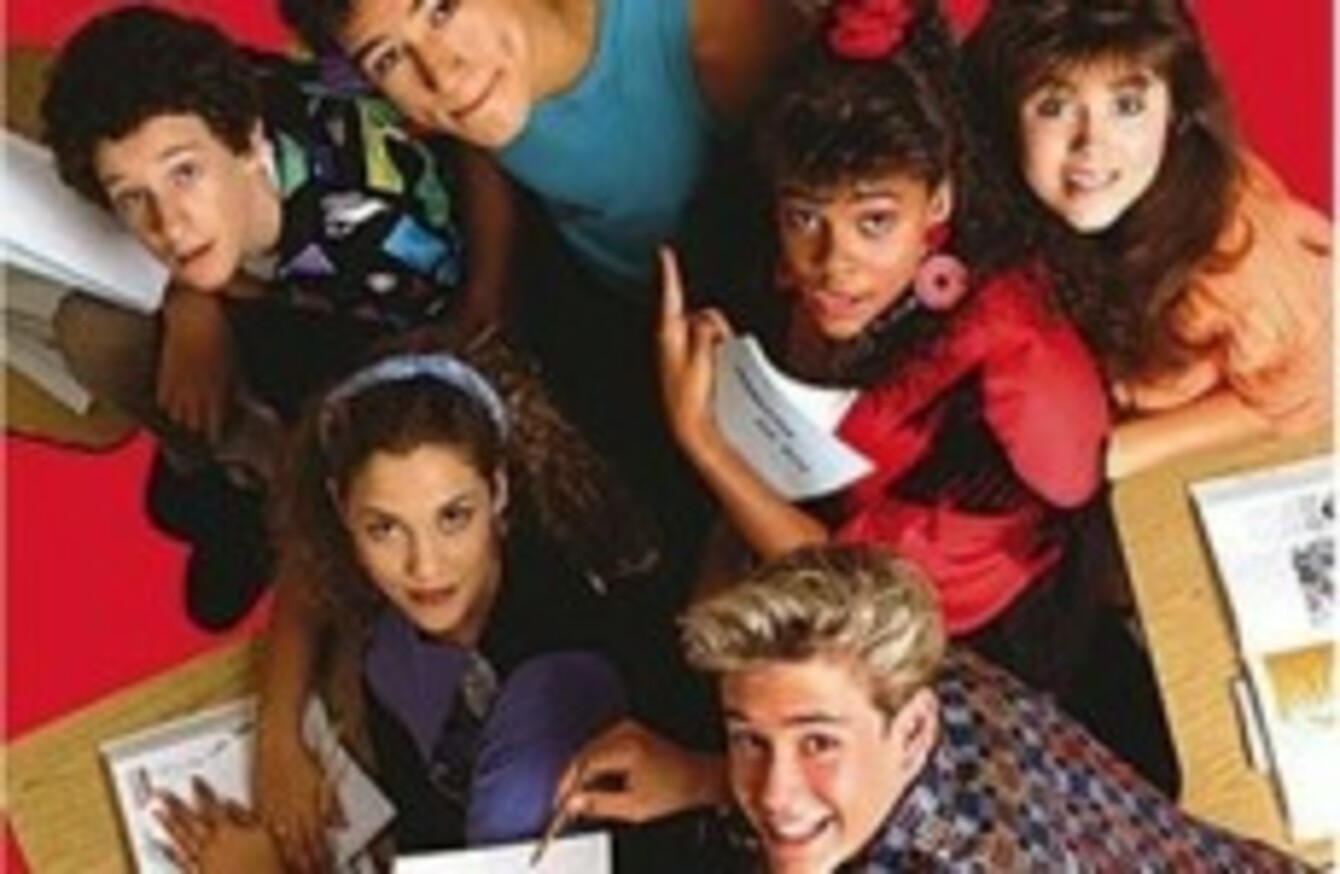 Image: DVD cover
Image: DVD cover
SEEING TEEN STARS grown up is sort of like seeing your teacher out of school. It's wrong, it shouldn't happen, and frankly they should know better.
But the world got a wake-up call this week, when it emerged that Mario Lopez – better known as the mullet-sporting teenage wrestle-hunk AC Slater on Saved By The Bell – has a real career, and is now going to be the host of X Factor USA. Alongside Khloé Kardashian.
Sure – in any right-thinking person's mind, he'll always be striding the corridors of Bayside High in a sleeveless vest. But it got us to thinking. What on earth happened to the rest of them?
First, let's get in the mood. It's Saturday morning and you've had your Frosties:
YouTube/TVThemeJunkie86
That's right: Zach Morris, AC Slater, Kelly Kapowski, Jessie Spano, Lisa Turtle, 'Screech' Powers AND Dennis Haskins as Mr Belding. Good times.
Now, let's shatter the dream. Here they are now:
Mark-Paul Gosselaar in 2008 (RICHARD DREW/AP/Press Association Images)
Zach Morris (Mark-Paul Gosselaar)
Here's the real revelation: Blonde Bayside heartthrob Zach Morris ACTUALLY HAS BROWN HAIR. Anyway, here we go:
Current activity: Appearing in 'legal comedy-drama' Franklin & Bash on E4. (He plays Bash.) Here's how the show is described on the E4 website: "How will these courtroom rebels cope in the buttoned-down world of corporate law? Pretty darn hilariously, that's how."
Career highlight: The fact that he dated each of the actresses playing Kelly, Jessie AND Lisa during their many, many years on the show. Swoon.
Mario Lopez in 2011 (AP/Press Association Images)
AC Slater (Mario Lopez)
Current activity: Standing next to Khloé Kardashian for extended periods on X Factor USA.
Career highlight: He's been knocking around on US telly for some time, with guest appearances including one on Nip/Tuck as "a plastic surgeon who drives Christian Troy to jealousy". But the highlight is probably the children's book he wrote about himself. (Sample publicity quote: "Mario is having a hard time finding somebody to play with.")
Tiffani Thiessen in 2009 (LuMar Jr/UK Press/Press Association Images)
Kelly Kapowski (Tiffani-Amber Thiessen)
Current activity: Producing her own line of baby furniture called Petit Nest. Typical cost of a cot: $1,490. Recently told an interviewer she 'could go bankrupt buying wine'.
Career highlight: Hard to pick from her numerous post-SBTB acting credits. Is it "Speedway Junky"? Is it "Stroller Wars"? No, we're going to have to go with "Shriek If You Know What I Did Last Friday the Thirteenth".
Elizabeth Berkley in 2010 (Vince Flores/UK Press/Press Association Images)
Jessie Spano (Elizabeth Berkley)
Current activity: She's written an advice book for girls called Ask Elizabeth, which answers questions including "How do you get a guy to know you're alive"?
Career highlight: Well, she fulfilled millions of teenage boys' wildest dreams by taking her clothes off in Showgirls, AND was nominated for PETA's 'Sexiest Vegetarian of the Year' award in 2008. But the highlight has to be her appearance on Diagnosis Murder with Dick Van Dyke.
Dustin Diamond in 2010 (AJM/AJM/EMPICS Entertainment)
Dustin Diamond (Screech)
Current activity: Not much. He appeared in 2010′s Big Money Rustlas as "Man In Outhouse". A few TV appearances haven't come to much, perhaps because of things like the fact that when he went on Celebrity Fit Club he challenged the show's US Marine host to "physical combat".
Career highlight: Do we all remember his appearance in a sex tape in 2007 in which he performed an unspeakably filthy act? At the time, his agent said hopefully: "This may help get more bookings."
Lark Voorhies during an interview earlier this year. (Screen grab/Yahoo)
Lark Voorhies (Lisa Turtle)
Current activity: Uncertain, but she said in a slightly strange interview earlier this year that she was "very busy". Her mother recently said she suffers from bipolar disorder.
Career highlight: Without a doubt, appearing as the love interest in the video for Boyz II Men's 'On Bended Knee'.
Mr Belding (Dennis Haskins)
Current activity: Professional wrestling. We are actually not kidding. And there's a video:
YouTube/TMZ
Career highlight: His 2009 karaoke album, Karaoke With Your Favourite Principal Dennis Haskins AKA Mr Belding. Definitely not still trading off old glories then.
You can listen to snippets here. But we warn you, he can't sing very well.
BONUS VIDEO:
While researching this article we came across this video, and had to include it. Remember when Kelly, Jessie and Lisa formed a girl group? It was called Jessie And The Sundaes and this was their song:
Vimeo/Good Kids.
For more, follow @dailyedge on Twitter and like The Daily Edge on Facebook.