1. Fire tornadoes
Spinning, tornado-like columns of fire which have been known to reach diameters of up to 500 metres. Did we mention they move?
They're formed by unusual wind conditions. Here's one in action in Australia:

YouTube/ABCNews
And another in Brazil:

YouTube/RussiaToday
2. Sinkholes
When the earth opens up and forms a giant hole swallowing everything on top.
Usually caused by the sudden collapse of underground caverns or water systems, they are often fatal when they occur in inhabited areas. And above all, the concept is terrifying.
A sinkhole that swallowed an entire street junction in Guatemala City. (Moises Castillo/AP)
3. Spider trees
When large areas of Pakistan were flooded in 2010, all the large tropical spiders needed somewhere to go.
So they took the trees.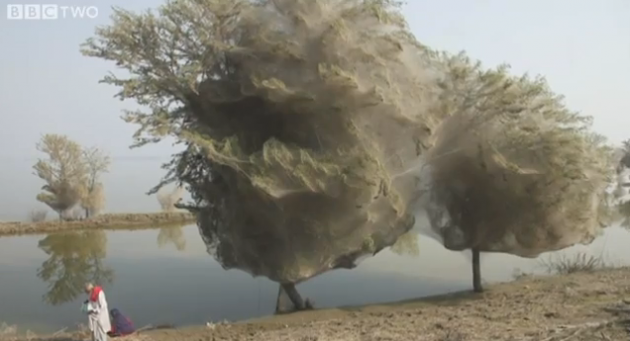 YouTube/BBC
4. Ball lightning
You know when lightning forms into a ball and hovers in the air?
No? Well, lucky you.
This is such a rare phenomenon that it's poorly understood and in fact is yet to be fully scientifically confirmed, but reports centre around glowing round objects varying from extremely small to the size of a car.
Here's one of the better-quality videos:

YouTube/crazyweathernews
5. Whirlpools
Just a really terrifying idea, essentially.
Here's a relatively small one swallowing giant chunks of ice and debris in Latvia:

YouTube/Jānis Astičs
And a vast one caused by the 2011 Japan tsunami:

YouTube/Stephen Gebhardt
6. The 'supervolcano'
A supervolcano is – yes – just a really, really large volcano. Which is fine, except there's a huge one located underneath Yellowstone National Park in the US.
The last time a supervolcano super-erupted around 75,000 years ago, it destroyed most of the vegetable life in the northern hemisphere and the global temperature dropped several degrees.
It's estimated the Yellowstone supervolcano erupts roughly every 600,000 years or so. The last eruption was 640,000 years ago.
Um.
Geysers at Yellowstone (Eye Ubiquitous/Press Association Images)