KELSEY WELLS IS a popular fitness blogger who has written about getting fit after having her first child and her experience with the so-called #BBG programme. (That stands for Bikini Body Guide, a workout plan devised by personal trainer Kayla Itsines.)
Yesterday, Wells shared a side-by-side photo on Instagram explaining why women shouldn't be so beholden to the number on the weighing scales.
The composite photo shows her at three different weights, but as Wells explain, though she might technically weigh more now, there's a very good reason for that.
When I first started 

#bbg

 I was 8 weeks post partum and 145 lbs. I weighed 130 before getting pregnant, so based on nothing besides my own warped perception, I decided my "goal weight" should be 122 and to fit into my skinniest jeans. Well after a few months of BBG and breastfeeding, I HIT IT and I fit into those size 0 jeans. Well guess what?
I HAVE GAINED 18 POUNDS SINCE THEN. EIGHT FREAKING TEEN. Also, I have gone up two pant sizes and as a matter of fact I ripped those skinny jeans wide open just the other week trying to pull them up over my knees. My point?? According to my old self and flawed standards, I would be failing miserably. THANK GOODNESS I finally learned to start measuring my progress by things that matter — strength, ability, endurance, health, and HAPPINESS.
"I have never had more muscle and less body fat than I do now," she wrote. "I have never been healthier than I am now. I have never been more comfortable in my own skin than I am now."
And if I didn't say 

#screwthescale

 long ago, I would have gave up on my journey. So to the little teeny tiny voice in the back of my head that still said "wtf is this- not 140!?" last week when I stepped on the scale, I say SCREW. YOU. And I think you should probably say the same to your scale too.
The post has received over 13,600 likes and counting with people commending Wells' healthy attitude.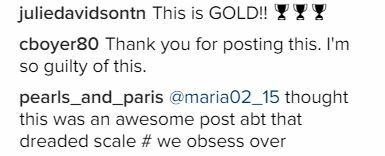 Kelsey Wells / Instagram Kelsey Wells / Instagram / Instagram
You heard the woman.
DailyEdge is on Snapchat! Tap the button below to add!