REPORTS EMERGED THIS morning that Anne Doyle has applied for early retirement from RTÉ.
The popular newsreader has worked at the national broadcaster for 33 years but according to the Irish Daily Star this morning, she has applied for early retirement.
The 59-year-old is entitled to early redundancy, which is being offered as part of sweeping cost-cutting measures at RTÉ.
The company's press office told TheJournal.ie that it does not comment on "issues relating to individual members of staff" so could not confirm if Doyle had requested early retirement.
Applications for the Early Retirement & Redundancy and a Voluntary Severance programme are being accepted until September 16 and senior management will make decisions after that date.
Whether it's true or not, it got us thinking about how much we (as a nation) adore Anne Doyle. We came up with seven solid reasons.
We love her…
1. …because we can't wait to see what she'll be wearing on the Nine O'Clock News. Her statement jewellery (see below) became a national talking point and was even parodied on RTÉ comedy programme, Bull Island. Their sketches showed an impersonator with forks dangling from her neck announce, "I am Anne Doyle. I am the news."
2. …because since first appearing on our screens in 1979, she has had a fabulous array of hairstyles but has always stayed faithful to the fringe. See RTÉ's own slideshow tribute to the news reader's coiffure here.
3. …because she's forever classy. Egged on by The Republic of Telly's Jennifer Maguire, Doyle would still not be caught cursing on camera.
Watch from 55 seconds in:
4. …because she wore this candy floss-inspired hat at the Budweiser Irish Derby in 2003, where she was pictured with then-Taoiseach Bertie Ahern.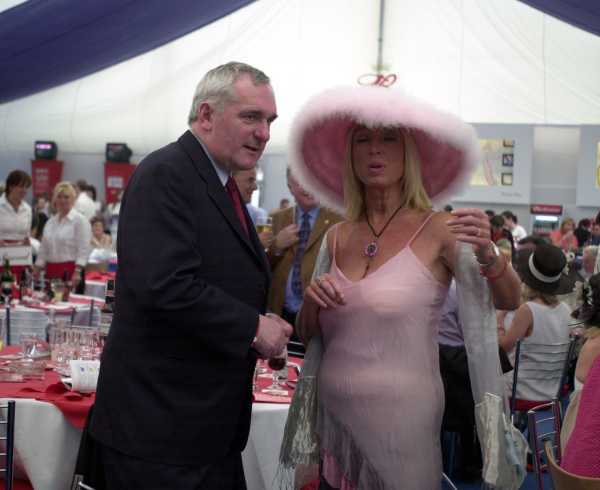 5. …because she is by far our favourite news reader, even making it into Ireland's top 10 television personalities, according to a recent poll by Online Sponsorship.
6. …because she has a sense of humour. Doyle has had ongoing relationships with Podge & Rodge and Dustin the Turkey. She has been the butt of many of the puppets' jokes but has got her own back on occasion. She once told Dustin at an awards ceremony that he was "looking fabulous after the avian flu".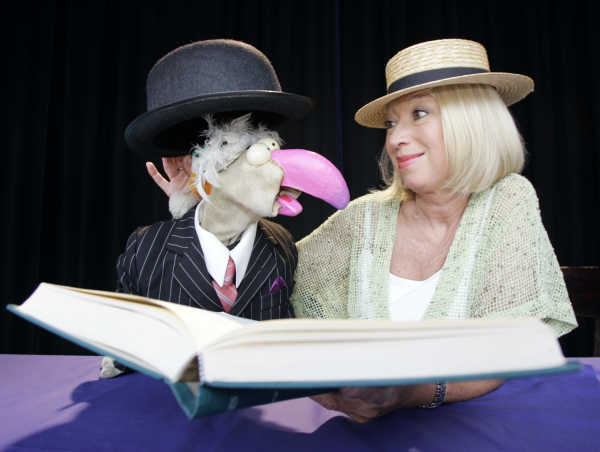 7. …because she knows her sport and doesn't "use her position" to blag free tickets. A native of Ferns, Co. Wexford, Doyle has followed the county's footballers and hurlers to Croke Park. She appears on this 2008 clip, decked out in full Wexford colours, telling fellow broadcaster that she rang up and paid for her own tickets for the match (from 55 seconds in).
With over 700 members, the Anne Doyle Appreciation Society on Facebook explains their fondness for the newsreader:
Glamorous, resplendent in strange metallic jewellery, her stunning visage 'neath her golden bob, Anne Doyle has come to represent all that is good about the National Broadcaster. Speaking always with integrity, with substance, an under-statedness that allows a coy raise of the eyebrow to convey so much.

We shared many of the great moments in our national history with Anne; Mary Robinson's election, the Good Friday agreement, the triple-win of the Eurovision. The greatest shame is that Anne herself never hosted that event. But her concern was always to bear the news, not to be part of it.

We salute you Anne, you saucy minx, you living legend. The Sharon Ni Bheolains of this world will come and go, but Anne shall remain immortal, immovable, immaculate.
Although she's not trending yet, many people have let their feelings about the newsreader's potential exit known on Twitter. A national day of "mourning" was even suggested if she does leave our screens and sitting rooms.
Here are some choice offerings from Twitterland:
Donncha O'Connell makes his feelings known about the prospect of the newsreader stepping aside, tweeting: "Anne Doyle is retiring! #nationaldayofmourning".
Who will be most upset if Anne isn't around at 9 o'clock anymore? Paula from Cork has the answer: "The original crumpet of @rtenews Anne Doyle has apparently applied for early retirement. The dads and grandads of Ireland will be devastated".
Freelance journalist Mary McGill expresses her dismay at the rumours: "How dare Anne Doyle – after years of service for this country – even dream of retiring! *bursts into tears* Tis the end of an era".
The Commitments actress and singer Maria Doyle Kennedy clarified an earlier posting, saying: "I guess I need to clarify last tweet for those not listening to Irish news this morn… Anne Doyle thinking of leaving RTE (not THE WORLD!)
Her original post – that caused some confusion across Twitter – read: "Ah no Anne Doyle, don't leave us".