THIS SIGN HAS just gone up on Pearse Street.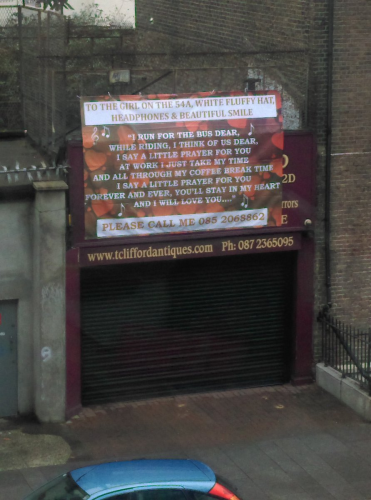 Maria O'Brien, Twitter Maria O'Brien, Twitter
Draped over Clifford Antiques, the sign is a very large shout out to the girl on the 54A, with a white fluffy hat, headphones, and "a beautiful smile".
Could be any of us to be fair.
Underneath that, are some alternate lyrics to Dionne Warwick's hit, Say A Little Prayer
dibotis / YouTube
I run for the bus dear,
While riding, I think of us dear,
I say a little prayer for you.
It just gets weirder.
When we called the number, we were greeted with a recording of a man singing the song.
So what have we got here?
A viral marketing campaign? Some Trinity students who don't want to study for exams? One of those 'social experiments' everyone hates? Or is it simply a lovestruck man, who thinks this is a romantic gesture to be proud of?
You decide.
DailyEdge is on Snapchat! Tap the button below to add!