EACH WEEK, WE'LL be taking a peek into some of our faves' makeup bags to see their must-have products, because we're nosy. This week, it's the turn of beauty blogger Simone Scribes. You can follow her on Instagram here.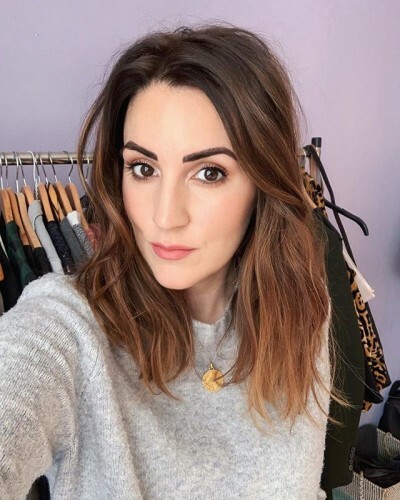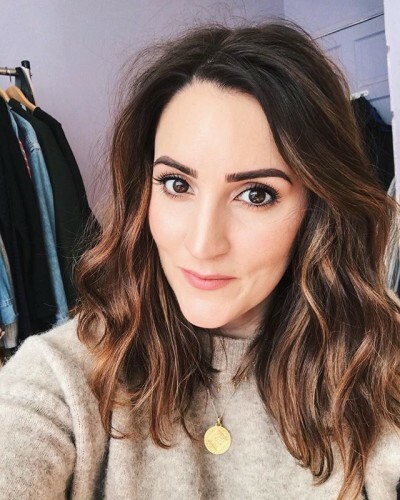 Her earliest makeup memories
"I grew up in a house where skincare was very important, so that came before makeup really. My Grandmother and her sisters were huge fans of Ponds Cold Cream, and they had incredible skin, so tubs of that were always knocking around.
"My biggest influence, however, was my Godmother Carmel. She was as a makeup artist for YSL when I was a kid. She taught me everything about makeup and skincare, including how to cleanse, tone, and moisturise at age 13.
She used to say 'if your skin doesn't look good your makeup won't look good either'.
"Her signature look became my signature look over time; a light foundation base, a natural smokey eye, lots of mascara and a nude (ish) lip, followed by a literal cloud of fragrance. Carmel, what a legend."
Her makeup bag and what's inside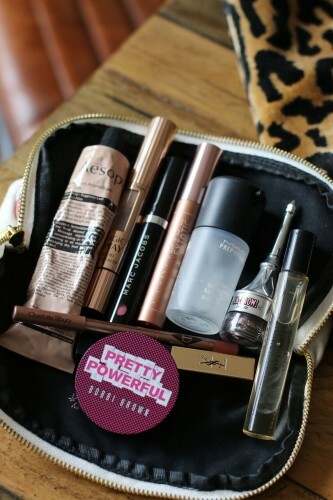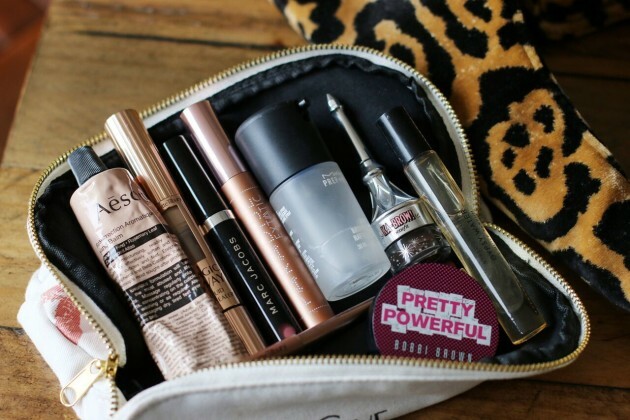 L-R clockwise: Aesop Hand Balm, Charlotte Tilbury Magic Away concealer, Marc Jacobs Lip Creme in 'Truth or Bare', L'Oreal Paradise mascara, MAC Fix Plus, Benefit Ka-Brow, Byeredo Gypsy Water, Bobbi Brown Pretty Powerful Pot Rouge and Charlotte Tilbury 'Pillow Talk' lipliner.
"Everything in my makeup bag is for daytime touch-ups, or for impromptu evenings out where I need to change up my look quickly. Only the best of the best make it into my makeup bag (I'm ruthless with products!) so everything is high-performance, easy to use, and long-lasting.
I always have three lip products in my bag; one natural, one statement, and a natural lip liner. Concealer comes next, along with brow cream, mascara, a mini fragrance, setting spray, cream blush (easy for on-the-go application) and a tube of hand cream."
"MAC Fix Plus – Possibly the greatest fixing spray of all time. I've used this for as long as I can remember. It holds everything in place and doubles up as a refreshing spray when my makeup starts to look a little flat. The travel size version is perfect for handbag adventures, too.
"Charlotte Tilbury Magic Away Concealer – A recent (ish) launch, this is currently my most used concealer. Full coverage, but very thin and not at all cakey – so I can happily add layers throughout the day without it looking too thick/obvious. I really don't like the sponge applicator, however, so I removed it with tweezers. Now I just twist a tiny bit on to my finger and then blend it in.
"L'Oreal Paradise Mascara – A brilliant, voluminous, thickening, non-clumpy mascara. Gives va-va-voom lashes and doesn't flake throughout the day. I think this is my 17th tube?! I can't get enough.
"Byredo Gypsy Water – This was originally a gift from a close friend, and I loved it so much I repurchased when it ran out. A beautiful delicate fragrance and I love the roller ball applicator as it's quick and easy to use. It makes me feel a little fancy, too.
"Benefit Ka-Brow – I'm brow obsessed and this is my all-time favourite brow cream. I have microbladed brows and I like a nice, defined brow – so when they start to fade there's no better product than this for replicating hair strokes (usually while on The Dart. I'm not ashamed).
"Bobbi Brown Pretty Powerful Pot Rouge – Bobbi's cream blush is the best, and I always have at least one shade in my bag. It doubles up as a lipstick too, so everyone's a winner (when you've forgotten your lipstick).
"Charlotte Tilbury 'Pillow Talk' Lip Liner – Are you even a Beauty Instagrammer if you don't own one (or several) of these? At last count, I had four, so there's always one (sometimes two) in my makeup bag. It's a very natural shade, easy to overdraw with and perfect under gloss if you need to do a really quick lip on the go.
"Marc Jacobs Lip Creme in 'Truth or Bare' – This is my 'natural lip'. It's a warm rose shade and an incredible formula – super pigmented and lasts through breakfast, lunch, dinner and er, several glasses of wine.
"YSL The Slim in No.1 – A brand new addition to my makeup bag, this is my 'statement lip'. A true, blue-toned red, this is what I slap on now when I want to feel glam/festive AF, as the cool kids say. It's a leather-matte formula, so it's very longlasting but really comfortable to wear. And it makes me feel like a grown up. So there's that.
"Aēsop Hand Balm. I love a bit of hand cream and this is my all-time fave so it has taken up permanent residence in my makeup bag."
DailyEdge is on Instagram!