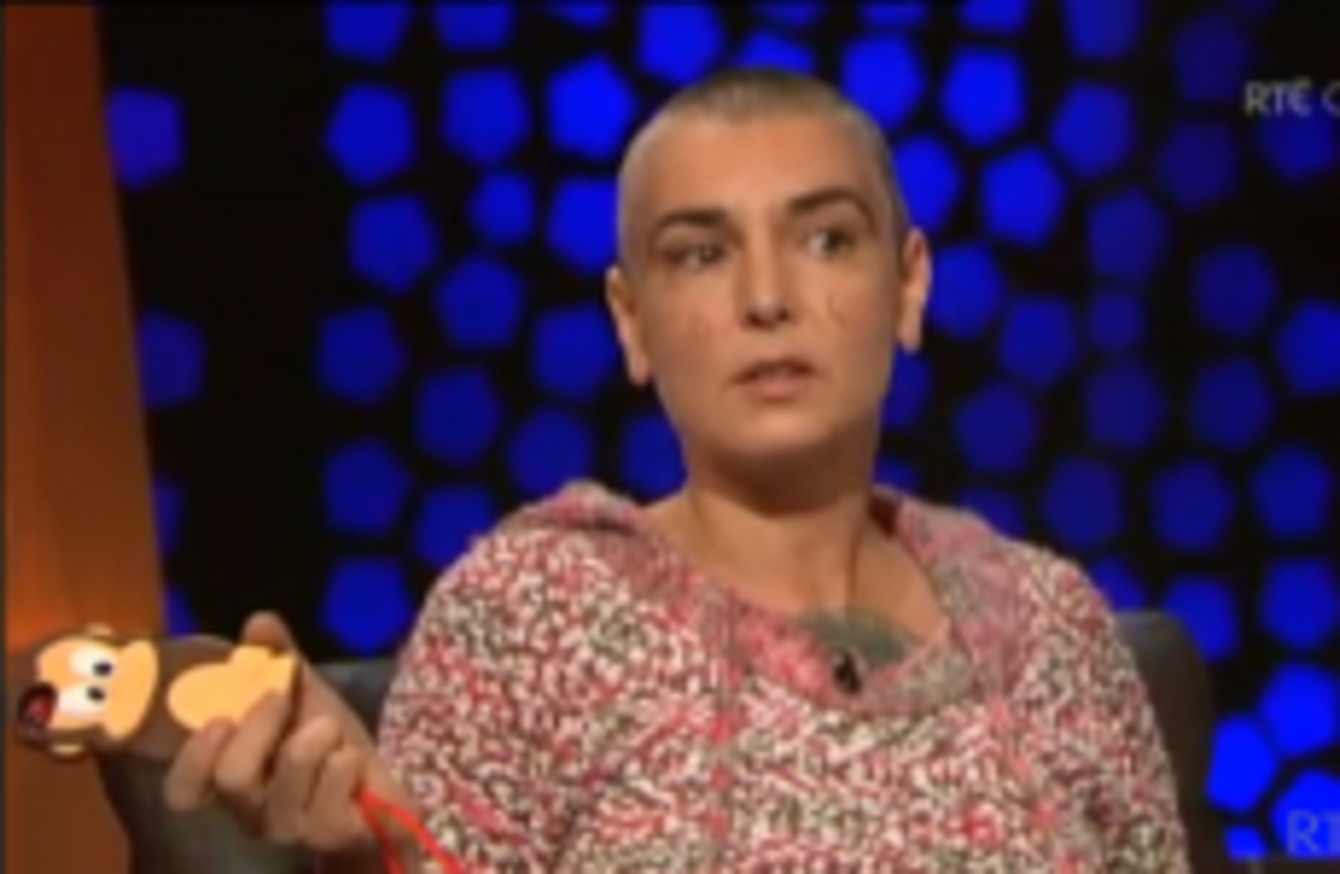 Sinéad O'Connor and her monkey-encased iPhone.
Sinéad O'Connor and her monkey-encased iPhone.
SINÉAD O'CONNOR REFUSED to answer too many questions about her war of words with Miley Cyrus during an interview on the Late Late Show this evening.
The singer said she wanted to use her nine minutes on air to start a conversation about how the music industry was "murdering rock and roll".
Taking control of the conversation from the second she sat on the leather armchair, O'Connor told presenter Ryan Tubridy that no artist in the world has "full control" over the sound of their music.
Waving her monkey-encased iPhone, she called out managers Simon Cowell and Louis Walsh for destroying music by creating distractions, sexualising people too young and sanitising the power records can hold.
She also noted that Walsh "did not know how to burn a CD".
The 46-year-old explained that she believes there is place for pop music in the world but argues that "everyone else is now being shut out".
Drawn a little on the Miley Cyrus issue, she conceded that the American star makes great records but asked the reason for why she was licking a sledgehammer for her latest video.
Comparing that video to her famous, Nothing Compares 2 U, she said that she shaved her head as a response to her label asking her "to be sexy".
The music industry is now a "vampiric arena where money is God", she continued. "The power for music to change and move people is being destroyed. That's what this Miley Cyrus issue brings up. We can all get our tits out, that is very easy."
Not getting much joy on the Cyrus questioning line, Tubridy moved the questioning to O'Connor's new cheek tattoos. She swiftly told him he could only ask about them "in private" and not on air.
Visibly frustrated by the end of the slot, the veteran presenter had to plead with O'Connor to stop asking questions about where the prize money for the show's competition comes from.
"Sponsorship, I told you," he concluded, before waving frantically for an ad-break.