DOWN THE COBBLED lanes of Temple Bar, hidden amongst the fast food outlets and Irish surname crest shops is one of the country's best kept fashion secrets. 
Introducing Siopaella.  
Siopaella's story begins, like many an Irish tale, in a bar.
Ella De Guzman met a man from Limerick who was living in her hometown of Vancouver. When he returned home to Ireland, Ella followed him here, arriving in Dublin on the night of St. Patrick's Day 2010 with her dog Louis in tow.
Louis is the smaller dog on Ella's lap. *Heart eyes*
The year 2010 has gone down in Irish history as a disaster economically. Black Thursday took place six months later when, on September 30th, Irish taxpayers were told they were facing a €50bn bill for the banks, as well as a four-year austerity programme. 
Not exactly the best time to think about opening a business.
Well, not if you're Ella.  
Coming from an entrepreneurial background, a teenage Ella and her friends tried to shop with the intention to resell the items they bought.  When she arrived in Dublin, Ella noticed that there was a substantial gap in the market for reselling luxury bags. 
Designer bags are the one fashion item that always retains its value. 
So in 2010 Ella set up a rail in a shop in Temple Bar. 
From there Siopaella has grown to now include four locations in Dublin – Wicklow Street, Temple Lane South, Cecilia Street, and Crow Street. 
The store is a treasure chest of Chanel, Stella McCartney and Chloe bags. For the majority of millennials, owning a brand new luxury Chanel bag is a mere pipe dream. However, Siopaella gives a new entry level for those who want to shop high end but just can't reach it. 
Ella personally evaluates every designer bag that arrives in to ensure the quality and authenticity of the bags. Just by looking at a bag, Ella can know if it's real or fake: For instance, there is a certain standard thickness to the LV emblem on Louis Vuitton bags.
Speaking to Niamh Devereux, Siopaella's Business Development Manager, it is clear to see that those employed by Ella are extremely knowledgeable about how to appraise a designer bag and spot dupes:
There's signs to look for – for example a decade ago, the Louis Vuitton factory changed the hardware to make their handles. The different handles haven't been in production since 2006 by Louis Vuitton so you'll see fake ones that try to replicate them, but you can't. 
returning customers know that our standard is very high.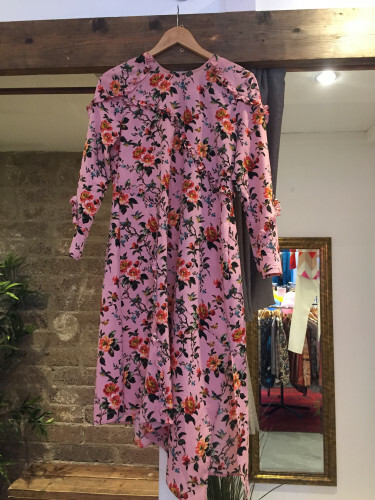 Every couple of weeks, Siopaella hosts swap days for clothes. 
As an owner, you come in with your bag of clothes (Siopaella take in a mix of high street to high end like Zara, Karen Millen, or Reiss) - and in exchange the team will price the bag of clothes and give you store credit based on the cost of the items. 
Siopaella's system allows you to unlock the currency of your wardrobe. That TopShop dress you wore to your ex-boyfriend's cousin's wedding? Swap it out for a Coast one. 
Niamh says that lessening the environmental impact of fashion is also a primary component of the business:
Siopaella is governed by the high principles of sustainable fashion, and we are proud to have been able to keep 100,000 items of clothing outside of the landfill through reselling them. 
Consumers, especially Millennials, have become increasingly conscious of how fast fashion impacts the environment. 'True Cost' (available on Netflix), was a particularly shocking Netflix documentary, with many viewers not realising that the fashion industry is the earth's second-largest polluter, right behind the oil industry.
Humans now consume 80 billion pieces of clothing each year, which is up 400% since the 1990s.
Celebrities like Aisling Bea are using their platform to promote sustainable fashion choices, involving herself in campaigns such as #WhoMadeMyClothes and #30Wears Challenge. 
As consumers become more focused on the environmental impact of fashion, preferring to have quality over quantity, expect to see fashion stores like Siopaella become increasingly popular. 
The store also has a different feel to stores with only a capitalist ethos to grow profits. Siopaella's shop workers don't have commission and shopping, which stops them pushing for you to buy as that would go completely against the ethos of the shop. Browsing and trying on clothes in Siopaella feels like you're shopping for a friend as they personally advise what suits your shape.
In the future, Niamh says Siopaella wants to continue to educate the population on the benefits of resale. 
Siopaella is attempting to change the stigma attached to reselling a designer bag you don't like or use anymore.
In Canada there's more of a culture of buying and reselling your pre-loved items. In Ireland, we tend to be afraid of what others will think if we're seen to be reselling items: Will the neighbours think that we are strapped for cash?
As Niamh says, it is quite sad to think of a gorgeous item wasting away at the back of the closet.
You can follow Siopaella on Instagram to keep up to date with what's in store and online. 
DailyEdge is on Instagram!