Welcome to Skin Deep with Louise McSharry, my opportunity to put years of obsessing over beauty products and techniques to good use. I won't tell you something is good if it's not. I won't recommend products I haven't actually tried. As the magical sitar in Moulin Rouge said, I only speak the truth.
The first time I bought a proper makeup brush I was seventeen at a makeup lesson in MAC in Brown Thomas MAC was the only brand worth caring about then, aside from when you were buying Shimmer Bricks from Bobbi Brown (which I'm still into, btw).
The deal was that you bought a lesson but could redeem the price of it against product, so it felt like I was making money. I bought MAC Paint Peintures in Stilife and Bare Canvas (gone but not forgotten), as well as a lipstick I never wore again and the aforementioned brush. It was an eyeshadow brush like this one, and I still have it.
One of my biggest memories of the brush is being told that it was made out of natural sable, which is why it was so soft. I was very impressed, and decided that having natural hair makeup brushes was the height of glam. These days, however, it would be a different story. As of January, MAC no longer manufacture brushes with natural hair from animals, and instead solely produce synthetic hair brushes. So what's the difference, and should we be making changes too?
First, the basics. 'Natural' hair brushes are made with hair from animals, like squirrels, badgers or sables. Clearly, if you're a vegan, these guys are not for you, but for years they were seen as the superior option. Aside from the fact that the hair was incredibly soft, it was also naturally porous which helped with the even distribution of product.
Synthetic brushes are made out of synthetic substances like nylon and plastic, which means that in the past, they simply weren't as good. They felt harsher, and weren't great at applying product in areas which require detailed work, like around the eyes. They were, however, thought to be ideal for cream or liquid products, as the hairs didn't absorb liquid the way that animal hair does.
As you might expect, however, advancements in technology mean that plastic has come a long way, and these days, most of the problems attributed to synthetic brushes have been eradicated. The hairs are no longer blunt and harsh, instead they are manufactured to have the same delicate, tapered shape as an animal hair. The fact that a brand like MAC are happy to have their artists entirely switch to synthetic hair brushes is a tribute the level of quality available now, and having compared the old brushes to the new synthetic ones, I can happily say that most people wouldn't be able to tell the difference.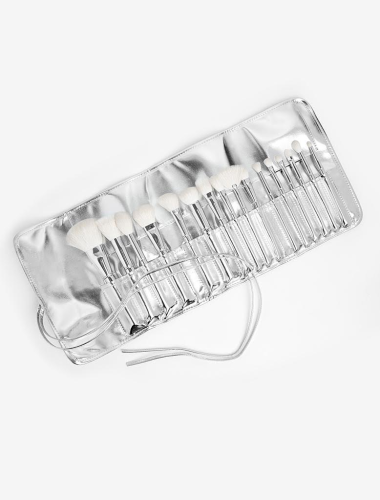 Kylie Jenner's $360 natural brush set
Aside from all that, there are distinct advantages to using synthetic brushes. They don't shed the way natural brushes do. They are more durable, so last longer. They're easier to wash because they soak up less product. They come in fun colours (colours are important, guys). While you obviously pay for quality, they are generally less expensive than natural hair brushes because synthetic material is much easier to source than animal materials. (Remember the hulaballoo over the price of Kylie Jenner's brush set? It was that price because they were natural hair brushes.) Finally, they're cruelty-free.
Many brands which produce natural hair brushes still consider themselves cruelty-free due to the way the hair is harvested from the animals. Zoeva, for example, state on their website that 'The natural hairs of ZOEVA brushes are collected from goat hair, which is gently combed or shaved. No animals are harmed during this process.' So, it's up to you to decide. Are you ok with that, which, in fairness, doesn't sound much different to sheep being shorn for a wooly jumper, or would you rather not use animal hair at all? If you definitely don't want to, then the synthetic route is the one for you.
A selection of NARS brushes
The good news is that if you do decide you want to live that synthetic life, a world of choice awaits you. There are many excellent options, but I humbly suggest that the aforementioned MAC selection is excellent, as are the offerings from NARS. Charlotte Tilbury also just changed over to all synthetic brushes, and they are beautiful. Real Techniques absolutely bat above their price band, and if you're feeling somewhat fancy, their PowderBleu line is fairly luxe and was designed to emulate squirrel hair.
New Product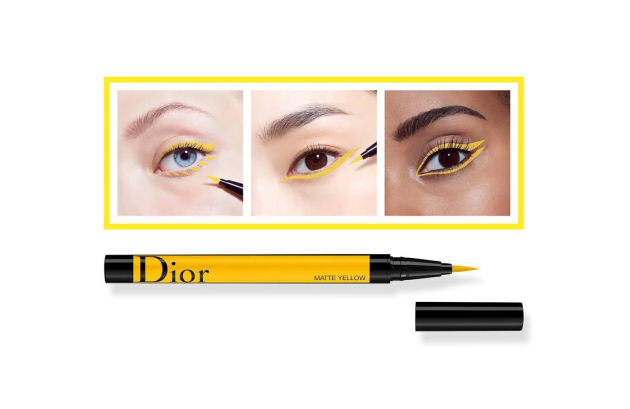 Dior's most recent runway show featured bright, graphic eyeliner, and while I think calling it a 'feminist battle cry' as Vogue did is a bit of a stretch, it looked extremely cool. I've spent years mixing up eyeshadow and liquid to try to create the kind of matte lines on show, but those efforts are now a thing of the past thanks to the beauty arm of the company's new Diorshow On Stage Liners. These felt tip pens are matte and bright and unapologetic. I love them.
Want to get a notification every week when Skin Deep is published? Of course you do! Just send us a WhatsApp saying 'Skin Deep' to 083 8120901, and add our number to your contacts as DailyEdge. (If you don't add us, we can't message you :( ) We'll never spam you or share your personal details with anyone, and you can unsubscribe at any time. 
DailyEdge is on Instagram!