Hello, and greetings from the depths of January. We have truly reached that stage of the month where surely, if there were any goodness in the world, it would spontaneously end and we'd wake up in Spring, but alas it is a dark and wicked place, and we've got a whole week of January left. (Is this coming across negatively? Sorry, it's the January speaking.)
One of the hardest things about January for me is that all of my instincts tell me to hibernate and be kind to myself, but everyone in the media, both social and traditional, is suggesting that I should be somehow trying to better myself. 
If they're not talking about #gains or #fitfam, they're Marie Kondo-ing their house and starting 'new career chapters', and well, I'm just getting through the day over here! Having said that, when things seem bleak, there is definitely something about setting and completing a task which can give you a little lift. Thus, this week, I'm going to get down to brass tasks about cleaning your makeup tools, from brushes to blending sponges.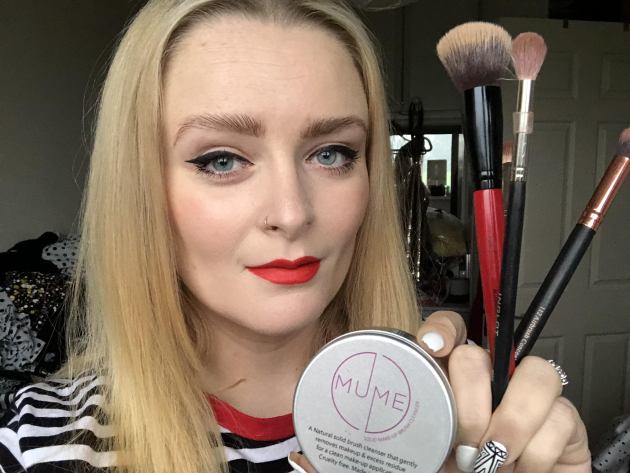 We all know that we're supposed to clean our beauty equipment regularly. After all, there's no point in spending a fortune on skincare if you're going to rub bacteria into your face every day while applying your makeup. If you wanted to make the experts really happy you'd be giving them a quick going over with brush cleaner every time you use them and a proper cleanse once a week. Let's be honest though, none of us are doing it as often as we'd like. It can be a tedious task, and has to be carefully timed in order to ensure that your brush squadron is dry and ready for action when you next need them. 
Traditionally, the recommended process involved a glass of warm water with some baby shampoo in it, swirling your makeup brushes in it and massaging the product out. It sounds simple, but if you have several months worth of makeup beaten into your tools then it can take an age. Fortunately, in recent times several gadgets have appeared on the market which speed up the process.
StylPro blew everyone's minds when it first appeared. The little globe simply required you to fill it with water and a little cleanser, then stick your brush in where a whirl of water and hot hair would perfectly clean and dry your brush in a matter of moments.
It's pricey though, at around seventy quid at full price (although Sam McCauley have a great deal on them at the moment, should you be interested). Predictably, very similar products have arrived at a fraction of the cost in places like Penneys and on sites like AliExpress. There's no doubt that these gadgets are speedy and effective, however the is some risk that the swirling motion could adversely effect the shape of your brushes, leaving them splayed. The likelihood of this is linked to the quality of your brushes, but it's understandable if you would prefer not to take the risk.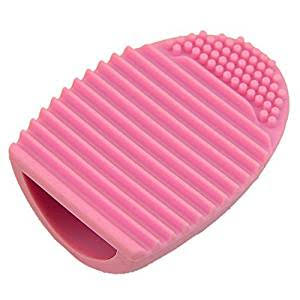 Amazon Amazon
A more low-tech tool for brush cleansing comes in the form of a small rubber mitt covered in grooves, which very effectively removes old makeup from your brushes when you rub them across it. There are lots of variations on these, but they are regularly available from places like Penneys and Amazon, and they really, really work, cutting cleaning time in half. Simply dip your brushes in a warm water and baby shampoo solution, rub them across the mitt until the water runs clean when you rinse them and you're done.
My favourite brush cleaning method, however, involves an Irish product called MuMe Solid Makeup Brush Cleanser. It's all natural, cruelty-free and comes in a vegan formula, so you don't need to feel any guilt about using it. Most importantly, however, it works. MuMe is a solid soap which comes in a little metal pot. To use it, you simply dampen your brushes, rub them back and forth across the soap, then massage them until the water comes out clean. There's no faffing around with glasses and baby shampoo and filling and refilling, you only need your soap and a sink. As you go, the pot may fill slightly with water, simply tip it out and keep going. I love MuMe, and wouldn't be without it.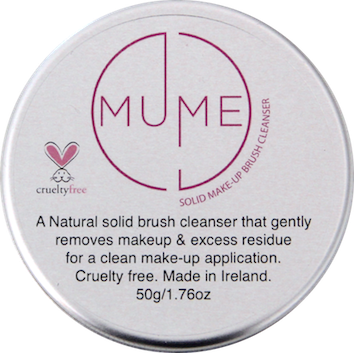 A solid soap is also the best and quickest way to clean your Beauty Blender type makeup sponges, in my opinion. Star by wetting your sponge with warm water, then lather up your soap under the tap. Any bar of soap will do, although Beauty Blender sell their own if you'd prefer to stick with a product specifically formulated for makeup sponges. Rub your sponge over the soap, making sure its entire surface is covered. Then hold your sponge under the tap, rubbing and squeezing until the water runs clean. I'm telling you, you won't believe how much gunk comes out, and how quickly you'll be reminded of what the original colour of the sponge was.
New Product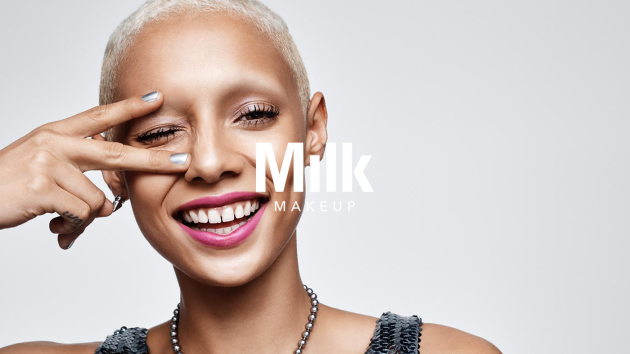 Milk Makeup is a brand borne out of a 'bi-coastal photo studio' in the US. It prides itself on being cool, and encouraging its customer to use makeup to express their personal style. The products are all cruelty-free and vegan, and in handy to use formats (check out their serum sticks and solid oils, for example). Until now, we could only access the brand via the US, but next month it's coming to Cult Beauty, which means it's all ours if we want it!
Want to get a notification every week when Skin Deep is published? Of course you do! Just send us a WhatsApp saying 'Skin Deep' to 083 8120901, and add our number to your contacts as DailyEdge. (If you don't add us, we can't message you :( ) We'll never spam you or share your personal details with anyone, and you can unsubscribe at any time.
DailyEdge is on Instagram!