Welcome to Skin Deep with Louise McSharry, my opportunity to put years of obsessing over beauty products and techniques to good use. I won't tell you something is good if it's not. I won't recommend products I haven't actually tried. As the magical sitar in Moulin Rouge said, I only speak the truth.
As women, we often think we're lucky when it comes to hair loss. Undoubtedly we've watched a man in our life adjust to life as a bald man and thanked our lucky stars that it's not something we have to experience.
Our hair is something we often take for granted, but the reality is that lots of us will experience hair loss at some stage in our lives. Our hormones can wreak havoc on our follicles, whether post-natal or otherwise, Alopecia can strike at any time, and sometimes life-saving medical treatment can leave us bald. Despite the fact that lots of us will experience it, it's not a subject we spend a lot of time talking about. This week I thought it might be useful to stare it in the face – to tell you exactly what it's like and how best to deal with it.
In August of 2014 I was diagnosed with Hodgkin's Lymphoma, a type of blood cancer, and I started a six month course of chemotherapy the following week. Not all people who have chemo experience hair loss, it depends on what kind of chemo you're receiving, but I did. By the time my birthday rolled around October my hair was almost all gone. Having been told that it was likely, I was watching for it, but it was still a shock when clumps of my hair started to come out in the shower.
A friend of mine had advised me to get rid of it all quickly when it started to fall out, because otherwise it's a slow in painful process which leaves hair everywhere as a potentially upsetting reminder of what's happening. Also, hair in your eyes is not fun. I booked an appointment with my hairdresser the next day.
He had been specially trained in assisting people experiencing hair loss, so was extremely sensitive about it, making sure I had a private room in which to have my head shaved. If you find yourself in this situation, this is useful. You don't know how you're going to react, and if you find yourself getting upset, you probably won't want an audience. Of course, you could absolutely get a loved one to shave your head at home too. Do whatever makes you feel the most comfortable.
I spent a lot of money on a wig, despite feeling confident that I wouldn't wear it. I knew I would be too warm, and felt that I could style out my bald head over the winter with hats and strong makeup. If you find yourself experiencing the type of hair loss which may result in baldness, but feel you may not want to wear a wig, I would advise you to buy something inexpensive initially. It's possible that you will wake up one morning and not feel like you can face the world with a bald head. It's good to have something there. If you find yourself wearing it regularly, it might be worth considering booking an appointment with a more sophisticated service (I used Roches, who were sensitive and kind).
If I was doing it again I would get NR Wigs to style me up a few fun wigs and forgo the expensive natural one. My gut said I wouldn't wear it, and I didn't. Your gut may say the opposite. We should trust our guts.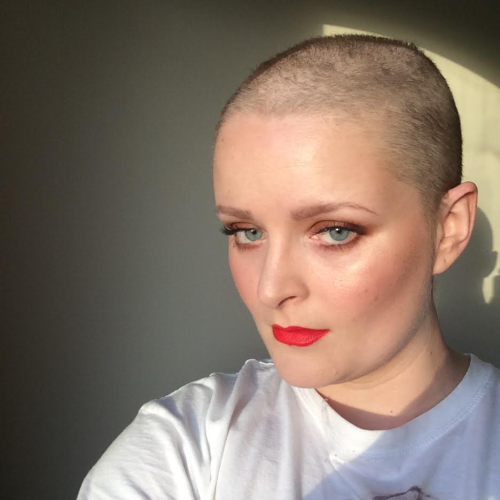 If you decide to embrace the bald, I found eyebrows, eyeliner and lipstick were my biggest makeup priorities. If you have brows and lips, your face is framed. Bright lips make your head look FASHION instead of HOSPITAL.
Good liquid eyeliner can help you fake a lashline when your own has disappeared. The extensive range of brow product available now means it's easier than ever to fake eyebrows (check out my method here). If possible, make all your product waterproof – you don't want to find your defining features are slipping away in an occasional sweat. Of course, you don't have to do any of this.
You don't owe it to anyone to look any particular way, so if you'd rather do nothing and go completely au natural, do it.
I'm  not expert in hormonal hair loss or hair loss from Alopecia, but what I do know is that it happens to lots and lots of us. It can happen as a result of stress, or pregnancy. It can happen in patches, or over the entire scalp. It can be distressing, especially in situation where you are uncertain as to whether or not it will grow back. For some reason, it can be shameful, despite the fact that it is beyond your control. These are situations in which to trust the experts. Speak to your doctor to see if there is any possible medical intervention. Speak to your hairdresser to see if they might be able to help you disguise patches or best camouflage regrowth. They've seen it all before, and won't be shocked. If you're nervous about it, ask it you can speak to them on the phone first to explain your situation.
Speaking of regrowth – it's slow. If you've lost all your hair it takes a long time for it to grow back. It's not like growing out a pixie cut (as irritating as that may be), because you're starting from literally nothing. A healthy diet can help, as can hair growth supplements, but really you have no choice but to wait. Summon all your patience, and if you haven't already, speak to your hairdresser so that they can help you look and feel great throughout the growing process.  In my opinion, I didn't have a single bad look en route from baldness back to the hair I have now, and that's because Christian (Shannon, of Brown Sugar) knew how to cut my hair in such a way that it looked like a choice, without taking off so much that I didn't get some length back.
Finally, it's ok to be upset about hair loss. Sometimes there is an expectation on us, from ourselves and others, to put on a brave face and pretend like we're not bothered, but it's perfectly natural to be bothered. Remember you're not alone. You may not even know how many people in your life have experienced the same thing. Don't be afraid to talk about it. Reach out for help if you need it. Be kind to yourself, and put one foot in front of the other and you will be ok.
New Product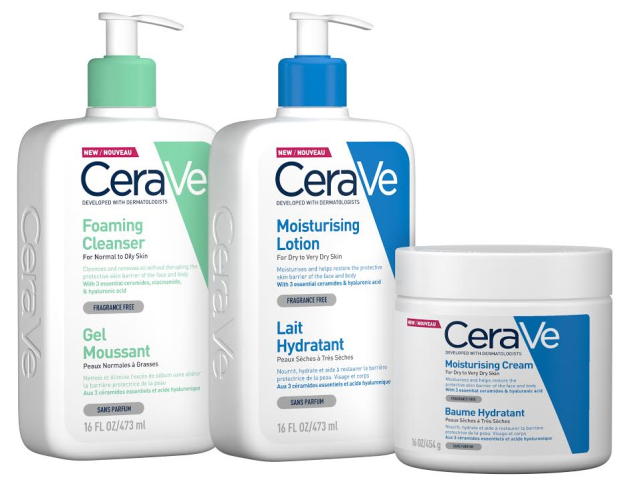 CeraVe is a cult American skincare brand which has just arrived on Irish shores, thanks to its parent company being purchased by Loreal. The range was developed by dermatologists, and forgoes fancy packaging in favour of science. The theory behind the products is that they help restore the skin's natural barrier via ceramides or oils which are already naturally found in the skin. These products are ideal for people and children with 'problem skin' conditions like Eczema, Rosacea and Acne, but won't do the rest of us any harm either. They also won't break the bank, with the products currently available in Ireland capping out at €16.80. Certainly worth a go!
Want to get a notification every week when Skin Deep is published? Of course you do! Just send us a WhatsApp saying 'Skin Deep' to 083 8120901, and add our number to your contacts as DailyEdge. (If you don't add us, we can't message you :( ) We'll never spam you or share your personal details with anyone, and you can unsubscribe at any time. 
DailyEdge is on Instagram!