Welcome to Skin Deep with Louise McSharry, my opportunity to put years of obsessing over beauty products and techniques to good use. I won't tell you something is good if it's not. I won't recommend products I haven't actually tried. As the magical sitar in Moulin Rouge said, I only speak the truth. 
We're all familiar at this point with the common internet joke about influencers claiming to have gotten 'loads of questions' about their top/earrings/super jumbo tampon after posting on their social media accounts wearing said items. It's funny.
We all like to have a laugh at influencers' expense because frankly, they get a lot of free stuff, and we want a lot of free stuff, and why can't we have the free stuff?! The thing is, these days I sit slightly in the influencer world, due to my posts about beauty etc. on my Instagram account, and guys, seriously, people ask about everything. I've started to become one of those people who tags every item I'm wearing in every photo because I know that someone will want to know where they came from. After all, a lot of the reason we follow people online is because we like the look of them or we like their style, so it's not surprising we want to emulate them sometimes. 
Having said that, most of the time I get less than ten questions about a given item. It's not usually a deluge. Occasionally, though, it is, and that was certainly the case this week when I was trying out a new beauty product and wore it while posting some Instagram stories. For a full twenty-four hours, my DMs were hopping and I got at least two hundred enquiries about what I was wearing on my face. NO EXAGGERATION!
With that level of interest, I felt it was only right that I share the product with you. Pals, the product in question is BPerfect Cosmetics Glamour Glitter eyeshadow, and it is fantastic. 
Before I get into the product itself, a little about BPerfect Cosmetics for those who aren't familiar with the brand. BPerfect is the brainchild of Brendan McDowell, a County Down man who started out selling eyebrow kits on a stall before developing his own product and developing his own brand. The company is known for trend driven products and collaborations with big Instagram names like makeup artist Stacey Marie and beauty influencer Mmmmitchel. If none of that matters to you, then what might matter is that the products are really good. And so, to Glamour Glitter eyeshadow.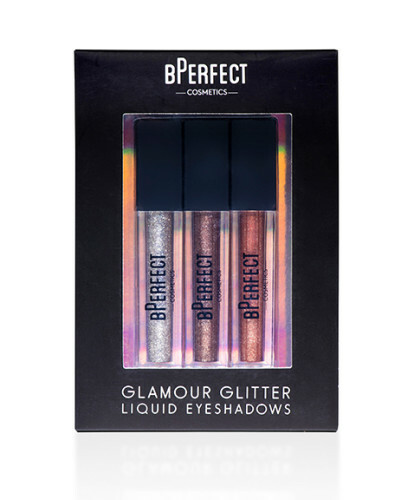 Personally, I feel victimised by the Christmas overlords who claim glitter and sequins as their own and suggest they should only be worn in December. Personally, I want to glitter all year round, especially in the bleakness of February. However, glitter can be a challenging product to wear on your face, and eye products in particular can be a right pain.
Too often, they are difficult to apply, uncomfortable to wear, and flake all over your face resulting in a look that's more disco ball that's seen a lot of hard nights than glamorous glittering diva. 
BPerfect's Glamour Glitter eyeshadows are none of these things however, they are a cinch to apply, comfortable to wear and flake minimally. They come in a set of three for around €30, depending where you buy them (stockists here), and come in gold, silver and copper shades. You can layer them on top of other eyeshadows (many Insta baes are wearing them as part of a dramatic cut crease), or on their own, and they stay on until you take them off. They are sparkly deliciousness, and considerably less expensive than other competitors. One thing that can not be said about them is that they offer delicate sparkly, it's more high impact glitter, but if that's your thing then these are for you.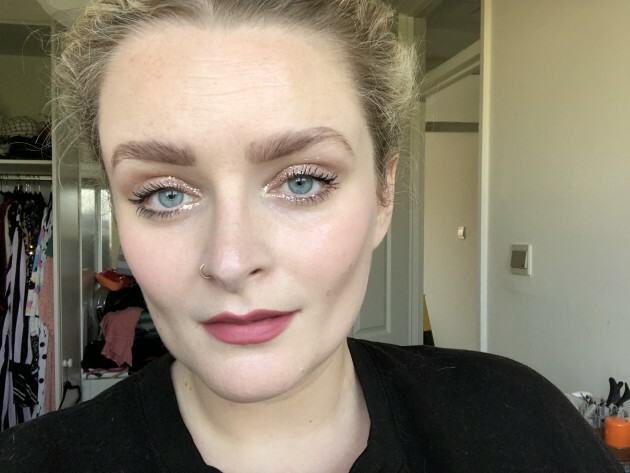 In the first photo for this piece, I'm wearing the copper shade with a little warm orange-y brown shadow in the crease and under the lashline to smoke it out slightly. In the photo above I'm wearing the silver shade completely on its own. I just lashed it on with the doe foot applicator, then used a standard blending brush to soften the edges. Truly, it took me a minute. So, don't let anyone tell you that you should only sparkle in December. Spring deserves to glitter too! 
New Product
If you're someone who enjoys a product or two, there is no doubt that the limitations on liquids for air travel is a source of frustration. It's a right pain to decant all your gels and creams into little pots, and an even bigger challenge to get them all into a teeny tiny plastic bag. It is for this reason that I was delighted when Moxi Love's Bare Faced Cleanser Infused Makeup Removal Pads landed on my desk this week. These cotton pads come dry, but when you add water will remove your makeup in a jiffy. You can throw them in your suitcase without a second thought, and for that I am grateful. I'm sure any of you who've had to make that Sophie's Choice between your serum and your moisturiser will be delighted with the extra space. These guys are hypoallergenic, cruelty-free and contain no alcohol, parabens or sulphates. You can get them in Penneys stores nationwide and they'll set you back €3.50 for a pack of thirty.
DailyEdge is on Instagram!