Welcome to Skin Deep with Louise McSharry, my opportunity to put years of obsessing over beauty products and techniques to good use. I won't tell you something is good if it's not. I won't recommend products I haven't actually tried. As the magical sitar in Moulin Rouge said, I only speak the truth. 
As Oprah says in the opening words of her Super Soul Sunday podcast, 'the greatest gift we can give ourselves is time'. For most of us it's a valuable commodity, one we simply don't have enough of as we rush around our lives. Since I had my son two years ago, I have spent a lot of the aforementioned time thinking about the way things used to be, when I could lie in bed on a Sunday morning for hours, and start getting ready for a night out two hours before I had to leave the house. The glory days!
Now, things have changed, and today, whether you've spawned or simply have a busy work and social life, I thought I'd offer a little assistance for those times when you simply don't have the time to luxuriate in your product and have to get a face on fast. Today, I'm going to tell you how I get (relatively glam) in five minutes. (Literally five minutes, I timed myself.)
The key to get a face on fast, is planning. Think about your outfit etc. before you get to your makeup and decide what kind of look would go with it. What do you want to project? What products do you need to achieve that look? Do you really need them all or can you cut back? The fewer products and tools you use, the better, so see how much you can minimise your requirements before you start.
You don't want anything too intricate or complicated. If you know a sharp winged eyeliner will stress you out, don't do it. Instead, choose simple multipurpose products.
For this look, I used seven products and four brushes. For me, that's minimal, for you that may seem like your complex makeup routine. That's ok! Different strokes, etc. I began with clean, moisturised and SPF'd skin.
Then I lashed on It Cosmetics Your Skin But Better CC+ Cream SPF 50 (I already had SPF on, but the more the better as far as I'm concerned) using a Smashbox Blurring Foundation Brush. I like this brush because when combined with a light touch, it leaves a lovely finish (if you're someone who ends up with line marks from brushing on foundation, try a lighter touch… think water colour brush rather than paint roller), and the CC Cream offers remarkable coverage but maintains a skin-like finish.
Next, I applied some Charlotte Tilbury Magic Away Concealer to areas where I tend to have redness (for me it's my chin, around my nose and between my brows), leaving it to sit while I did the rest of my face.
Next, I began to apply eyeshadow. Again, the key here is simplicity, so I used one colour and two brushes. One brush to pack the colour on and another to blend. The shadow I chose is an almost creamy powder, but if you used a cream shadow from a chunky pencil, you could cut back on one brush and make it even simpler.
I selected a colour which I know can give me a subtle smokey eye when blended out around my eye, Clarins Ombre Matte in Earth. This formula blends beautifully, which means I know I don't need to worry about transition shades or faffing around with very delicate application. I simply pack it on to my eyelid up to the crease with a MAC 214 brush and rub some along my lower lashline, then blend out with a blending brush (my favourite is MAC 217). This colour lends itself to a slightly grungey look, so I don't need to worry about perfect application.
Once I'd applied by eyeshadow, I used my foundation brush to gently blend out the concealer. I find leaving it to settle for a bit before I blend means it stays where I want it to. Once that was done, I brushed some Glossier Boy Brow in Brown through my brows, which gives them a bit more consistency and body than they'd have otherwise. After that, I apply blusher with my fingers. A cream or gel is ideal when you're in a rush because it can be applied easily.
For this look I used a combination Glossier's Cloud Paints in Haze and Dusk, but obviously you could simplify by using only one colour. To finish my eyes, I apply lots and lots of Maybelline Lash Sensational Mascara, alternating on each eye so that the product has time to dry slightly, which helps with adding volume.
Next came lips, and on this occasion I used Charlotte Tilbury's Lip Cheat Lipliner and Matte Revolution lipstick in Pillow Talk (from the newly launched Pillow Talk Collection). You could absolutely dispense of the lip liner if you find them too finicky, and stick to the lipstick alone.
The penultimate step was highlighter, which I applied with my fingers, rubbing them on the bullet of a Wet n' Wild Megaglo Highlighting Stick(stockists here) before gently patting it on to the areas I like to highlight (cheekbones, between the eyes and cupid's bow).  Finally, I dusted some Nars Soft Velvet Pressed Powder in Flesh on the areas which I like to stay matter.
The reason this process is fast is because none of the products used require precise application, and all lend themselves to natural blending and a slightly grungy edge. If you want a five minute look that's a little more precise, skip eyeshadow altogether and spend that time on a perfectly applied red lip which alwayshas impact (although any bold colour will work). And there you have it! Glamour can be achieved in five minutes, if you can even find that!
New Product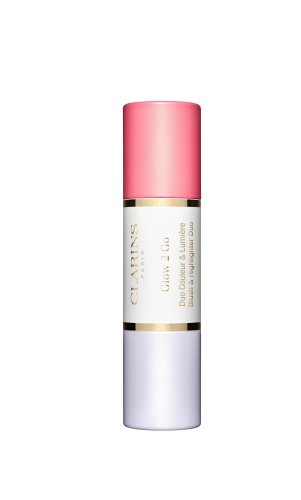 The theme of Clarins' Spring Collection is 'Selfie Ready' and the products look  absolutely gorgeous. From a mattifying and pore-minimising cream, to a double ended Glow 2 Go stick which functions as blusher and highlight, this stuff is right up my alley, and is a fresh take on beauty from a brand which some might refer to as classic. 
Want to get a notification every week when Skin Deep is published? Of course you do! Just send us a WhatsApp saying 'Skin Deep' to 083 8120901, and add our number to your contacts as DailyEdge. (If you don't add us, we can't message you :( ) We'll never spam you or share your personal details with anyone, and you can unsubscribe at any time.
DailyEdge is on Instagram!