Welcome to Skin Deep with Louise McSharry, my opportunity to put years of obsessing over beauty products and techniques to good use. I won't tell you something is good if it's not. I won't recommend products I haven't actually tried. As the magical sitar in Moulin Rouge said, I only speak the truth.
If you're a regular reader of this column, you'll know that I adore creativity in makeup. I love bold colours and unusual makeup looks.
I like to encourage makeup wearers to be fearless and to experiment, and I like to do the same myself. That said, sometimes it's nice to soften things a little and keep things simple and pretty. It may be that the mood just strikes you, or that you have a job interview or something for which you'd like to keep things neutral.
Whatever the reason, today I'm going to give you some tips for a soft, pretty look.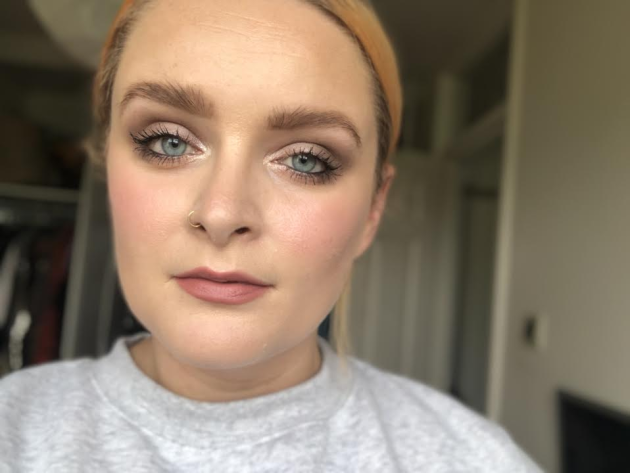 Start with your favourite base, be it full coverage or more natural.
Foundation is such a personal thing, there is no one-size-fits-all method to build a look on. Personally, I like a skin-like base, and my obsession with It Cosmetics Your Skin But Better CC+ Cream lives on. I'm wearing a combination of the illuminating version and the original formula in Light and Fair in the photo for this piece. I apply it with It Cosmetics Heavenly Luxe No. 7 Brush, which I adore.
It has a medium sized fluffy brush for buffing product into your skin on one end, and a smaller fluffy brush for buffing in concealer on the other end. I have used this brush literally every day since I got it last year. After buffing in the CC Cream, I applied a little Glossier Stretch Concealer where I need to counteract redness (for me, it's my chin, between my brows and around my nostrils).
Next, it's time for brows. I think fluffy brows are an integral part of the softness of this look. I don't do much to my brows in terms of waxing or plucking, and never really have, so I'm lucky on that front. I use a pencil or gel to darken and fill in my brows (in this case It Cosmetics Brow Power), then fluff up the hairs with Glossier Boy Brow (I use Brown). However, I know that the eyebrow sins of the '90s and '00s have left many of us sparse in the brow hair department. If you are someone whose brows are more of a centipede than a caterpillar, worry not, there are ways around this.
I've written about this before, but there are some new products on the market which can help in this department. Ideally, a thin brow pen is best here, as it allows you to draw on individual 'hairs'. If this seems intimidating, practice on the back of your hand. Stila's Stay All Day Waterproof Brow Colour is excellent for this, and Maybelline have now introduced a pen which promises to mimic microblading. Whatever you use, I think it's a good idea to use a brow mascara to fluff up what hair is there at the end. It also blends everything together in a more natural way. 
When it comes to your eyes, the secret to a pretty, romantic look is eyeshadow which is beautifully blended with no harsh edges. You want something which gives you depth, but isn't so dark that it takes away from your eyes' natural sparkle. (Are you puking? Understandable.)
I also think it's worth using a creamy shimmery or metallic shadow rather than a powdery matte. Both Nars and Giorgio Armani have introduced new eyeshadow formulas which are more buttery than powdery, which means they blend easily. I used a Giorgio Armani Eyes to Kill Quattro Palette (04) for this look, sticking to the two taupe shades which had an almost blue base where blended out. Taupes, greys, soft browns and purples are perfect for this look.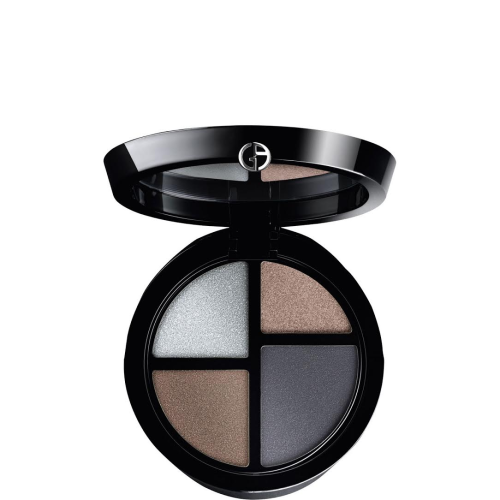 I used a small dense brush to apply the lighter of the two shades onto my lid and under my lower lashes on the outside of the eye, before blending out the edges with a large, clean fluffy blending brush. I then added some of the darker taupe to the outer corners of my eye on the upper lid, in the crease, and under the outer edge of the lower lash line. Precision is not important when you're creating a soft look like this. It's all about blending, which is why these creamy shadows work perfectly. Truly, if you are someone who struggles with blending, I really recommend this eyeshadow formula from Giorgio Armani. It is so easy to use, with minimal fallout, and a lovely, lasting finish – also, the quads make for foolproof colour combinations. 
To add a pop of brightness, apply some metallic silver eyeshadow in the inner corner of your eye, and the shadow is done! Apply as much mascara as you like (personally I'm not happy with less than four coats) and a touch of dark eyeliner along the waterline, and your eyes are complete.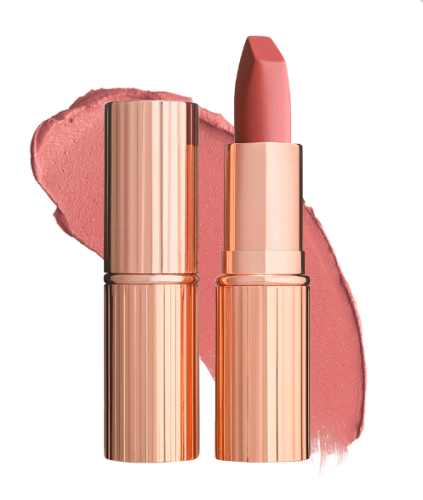 From there, a rosy pink blush, a touch of highlighter on the cheekbone (but not too much) and your favourite pinky nude lipstick will finish the look.
My preference for nudey pink lipstick at the moment is Charlotte Tilbury's Pillow Talk, which somehow suits almost everyone, but I'm also partial to Mac's Pink Plaidand Bourjois Rouge Edition Velvet in Chocopink. When it comes to blush and highlighter, you don't need to spend a lot of money, in my opinion. You probably already have a favourite, and that will do you fine! (If you don't have a favourite blush, please get one. Blush is important!)
Finally, add powder in places you don't want to shine (for me that's my chin, between my brows and just around my nose and under my eyes), and if you have a finishing spray, spritz some on. Most facial sprays will work here, but my favourites are Urban Decay's All Nighter and Mac's Fix+. Not only will they help your makeup last longer, but they'll soften any powdery effect and leave you with skin that looks like skin. 
New Product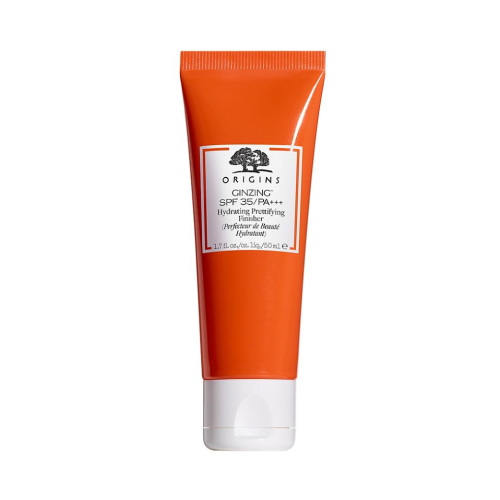 I've yet to find an Origins product I don't like, so it really should come as no surprise that I'm into the brand's new GinZing SPF 35 Hydrating Prettifying Finisher (€37). This slightly tinted cream can be applied after moisturiser and before makeup or on it's own after your skincare routine, and it hydrates and adds luminosity. I've used it both on its own and under makeup and it gives a nice glow, without ever crossing over into sweaty looking territory. It also smells deliciously orangey and has caffeine derived from coffee in it to make you look alive.  
Want to get a notification every week when Skin Deep is published? Of course you do! Just send us a WhatsApp saying 'Skin Deep' to 083 8120901, and add our number to your contacts as DailyEdge. (If you don't add us, we can't message you :( ) We'll never spam you or share your personal details with anyone, and you can unsubscribe at any time. 
DailyEdge is on Instagram!