Welcome to Skin Deep with Louise McSharry, my opportunity to put years of obsessing over beauty products and techniques to good use. I won't tell you something is good if it's not. I won't recommend products I haven't actually tried. As the magical sitar in Moulin Rouge said, I only speak the truth.
If you pay even an iota of attention to trends, you've probably noticed that the wearing of red and pink together is big right now. What would once have been considered a clash is like, totally hot right now, and I'm into it.
As are the girls in Tropical Popical where I get my nails done, who've christened the colour combination 'Rink' and gleefully cheer it every time it's requested. (It looks great on nails, by the way.) However, not every trend in fashion can be applied to the face. Tartan, for example, or paisley… not easy to translate for the visage. Rink, however, is a total winner. Depending on how it's applied, it can look fresh and pretty in a low-key way, or in a high-impact, fashion-y way.
If you're someone who finds the idea of a dramatic colour combination a little intimidating, do not fear. There's a simple way to do this, and all you need is a red lipstick and a pink blusher, which you probably already own.
Start with natural glowy skin (my preference is a CC cream or light foundation over well-moisturised skin, followed by a cream highlighter), then add a generous helping of blusher. If you want to maintain the creamy, glowy texture, a gel or cream blush is idea, but a powder blush will work well as long as your skin isn't too moist. If it is, you may end up with a patchy finish – to avoid this apply some translucent setting powder to the areas you plan to apply blush.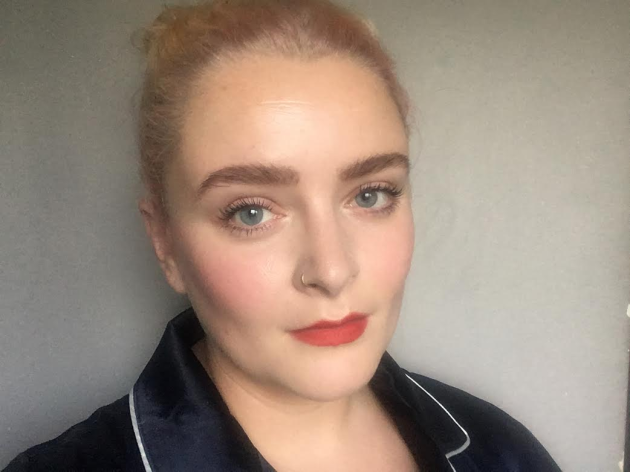 If you're feeling a little braver, you can do something similar, but with a wash of pink over the eyelid and slightly more neutral cheeks. Choose a pink shadow, or if you don't have one, a blusher will do, and apply over the lid up to the crease.
Remember that the denser the brush you use, the more intense the colour will be. You may want to pack the colour on densely with a short brush, or if you have a strong pink colour you may wish to apply a little product gently with a fluffier brush. Blend the shade at the crease, moving inward from each corner to ensure you keep the product on your lid.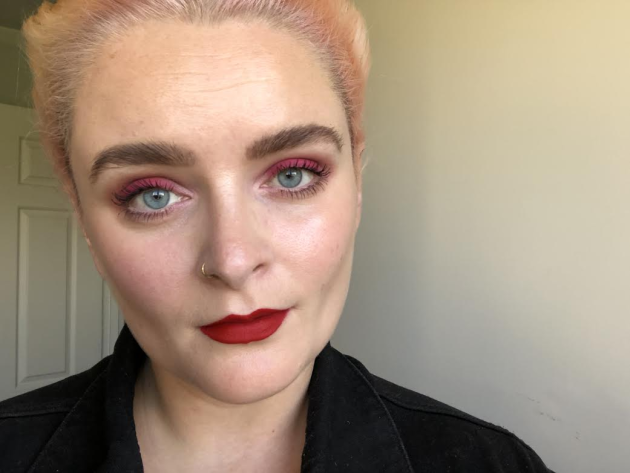 If you're not afraid of colour, you can add even more impact by using two different pinks on the eye, or a bolder pink with a sharper lip, as I have above. This look is a little heavier than I would normally wear, but sometimes it's fun to push yourself outside of your comfort zone! 
You may have noticed that I haven't recommended any specific products in this week's column, and that's because the chances are that you already have the required products to create the above looks. Sometimes we get carried away with the new-new, and the pressure to buy and have the latest cool product means we forget about what we have. I thought I would give you a week off!
New Product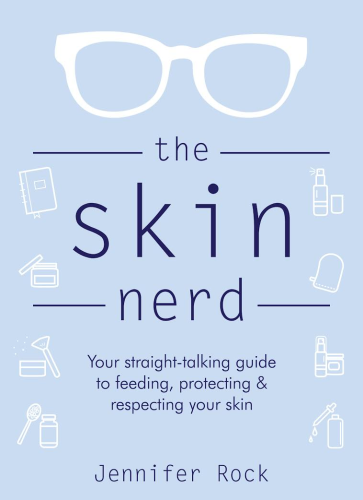 This week The Skin Nerd, aka Jennifer Rock, has launched a book focused entirely on keeping your skin looking good. I trust Jennifer in a big way, so if you're someone who feels like you need a crash course in skin basics, you could do much worse than picking up her book. 
Want to get a notification every week when Skin Deep is published? Of course you do! Just send us a WhatsApp saying 'Skin Deep' to 083 8120901, and add our number to your contacts as DailyEdge. (If you don't add us, we can't message you :( ) We'll never spam you or share your personal details with anyone, and you can unsubscribe at any time. 
DailyEdge is on Instagram!