Welcome to Skin Deep with Louise McSharry, my opportunity to put years of obsessing over beauty products and techniques to good use. I won't tell you something is good if it's not. I won't recommend products I haven't actually tried. As the magical sitar in Moulin Rouge said, I only speak the truth. 
As Irish people, we have a lot to be thankful for. Our gift for storytelling. Our ability to slag each other for hours on end and know that it's a sign of love.  The gorgeous scenery. However, if you are an Irish person of the celtic variety, then you may also have something you're not so grateful for. I'm talking about Rosacea.
Rosacea is essentially a chronic rash, which is most common in middle-aged people and people with fair skin. If you have it, you know all about it, but for those who don't, it manifests itself in patches of redness, bumpiness, enlarged blood vessels and a lifetime of blushing at inconvenient times.
Some people have mild rosacea, and only experience one or two symptoms, other people experience all of them. For some people, it is a really difficult thing to live with and can have a real impact on self-esteem.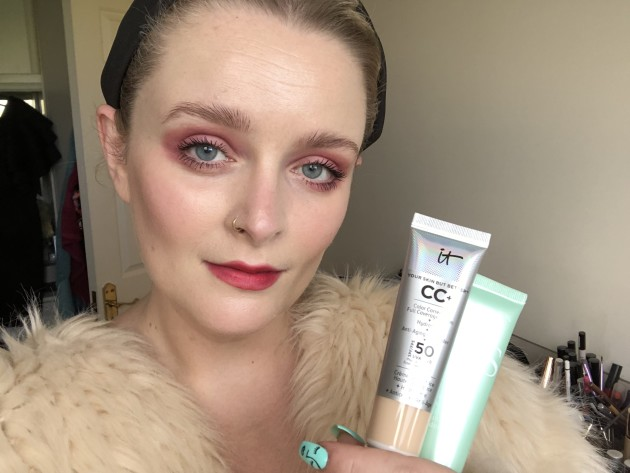 So, the question is, is there anything that can be done for Rosacea, and if you have it, can you conceal it with product? The answer is yes, and yes. While it can't be cured, it can be helped, so that's what we're going to talk about today!
The first thing to acknowledge is that there are lots of factors which can contribute to Rosacea flare-ups. Stress, the weather, diet (dairy, alcohol, caffeine and spicy food are often culprits, so that's great) and even exercise can exacerbate the condition. I can't really help you with those factors, but I can tell you that there are some skincare products which really agree with Rosacea-prone skin and some that really don't.
First. LASH. ON. THAT. SPF. This goes for absolutely everyone, but if you have Rosacea this is essential. Your skin needs extra protection from the sun, so find a good one, preferably a broad spectrum (that's UVA and UVB protection) of factor 50 and apply it every morning. Sun exposure is the number one trigger for Rosacea, and it's something you can protect yourself from, so do it. If you want to read more about SPF, check out this previous column.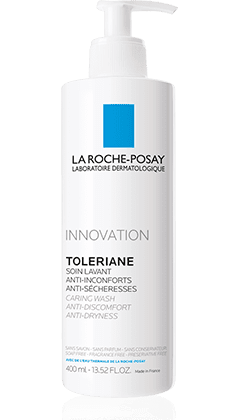 As a basic rule, if you have Rosacea the simpler the products the better. Anything which is highly fragranced or contains alcohol won't do you any favours. Instead, look for products which promise to calm and soothe agitated skin. La Roche Posay's Toleriane range is effective and comforting, while keeping the number of ingredients to a minimum, which means it's less likely to agitate your skin. Kiehls' Skin Rescuer moisturiser is a favourite of many Rosacea-prone people, due to the effectiveness of the ingredient Rose Gallica which calms brilliantly. Paula's Choice's products consistently perform, especially when it comes to people with particular skin needs, and the brand's anti-rosacea range is excellent.
The best products for Rosacea include ceramides and glycerin which help improve the skin's hydration and barrier, which means that the skin is more protected from environmental factors which exacerbate the condition. Look for those in the products you buy and you should be on the right track.
Put some time into finding products that work for you, develop a skincare routine, and stick to it. Your skin will thank you for it. Oh, and don't be afraid of a gentle toner like this one from Paula's Choice or even a simple rosewater. 
Unfortunately, even if you do all the right things when it comes to skincare and sun protection, if you have Rosacea, you're going to have flare-ups. Fortunately, makeup exists, and there are some great products out there to counteract redness. It Cosmetics' is a star player on this front, due to the fact that the company's founder has Rosacea herself.
She was a TV journalist who struggled to find effective products to hide flare-ups, so she started making them herself! The brand's Your Skin But Better CC cream is a dream for all skin types, but its nourishing, fragrance-free, factor 50 formula is perfect for Rosacea. It isn't as heavy as foundation and has far more skin benefits, but offers excellent coverage. 
The brand's Bye Bye Redness range includes a Skin Relief Moisturiser too in a colour correcting green, as well as this powder compact which I've seen in action and is almost miraculous in cancelling out redness. Vichy Dermablend is a great range for redness and its 3D Correction Foundation is a great option for Rosacea sufferers. It was developed with inflamed skin in mind and contains Salicylic Acid and Eperuline (a hydrating extract from tree bark) which both calm skin upon application. 
Whatever makeup you choose to use (you probably have a favourite already), be gentle with application. Occasionally I see people applying makeup in public (honestly one of my favourite things to watch), and sometimes the voracity with which they mash foundation into their face alarms me. Your skin is delicate, and deserves to be treated with a soft touch.
If budget allows, pick up a lovely soft brush to apply your foundation. It doesn't have to be a flat one labelled 'foundation brush', in fact I prefer a softer, fluffier one like this. Hold the brush lightly and skim the product along the top of your skin, before dabbing gently with the brush to eliminate any potential brush marks. Let the foundation settle a moment, and if applying concealer/blush/bronzer/powder, use a very gentle touch there too. If you are too harsh with your fingers or brushes, you'll remove the foundation underneath, not to mention agitate the skin.
Check out Charlotte Tilbury's technique for application to Rosacea inflicted skin here if you want a few tips! 
Finally, and this is the most important bit, remember that you're not alone. In fact, there are people all around you in the same boat. If you can't be bothered to wear makeup sometimes, don't. You don't owe anyone perfect skin, and you have to do what feels right for you. 
New Product
There have been several new foundation launches recently, and thankfully, makeup brands seem to have finally gotten the memo that limited shade ranges just aren't good enough. Fenty Beauty really put everyone on blast with their forty shades, and most of the new launches are now following suit! My favourite at the moment is 
Laura Mercier's Flawless Lumiére Radiance Perfecting Foundation
 which comes in thirty shades. This guy is full coverage, but glowy, and contains Vitamin C which means that with regular wear you should see some improved skin brightness. I love a complexion product which serves your skin while beautifying! At €49 it isn't cheap, so don't be afraid to ask for a sample to see if it's going to work for you. 
Want to get a notification every week when Skin Deep is published? Of course you do! Just send us a WhatsApp saying 'Skin Deep' to 083 8120901, and add our number to your contacts as DailyEdge. (If you don't add us, we can't message you :( ) We'll never spam you or share your personal details with anyone, and you can unsubscribe at any time.
DailyEdge is on Instagram!